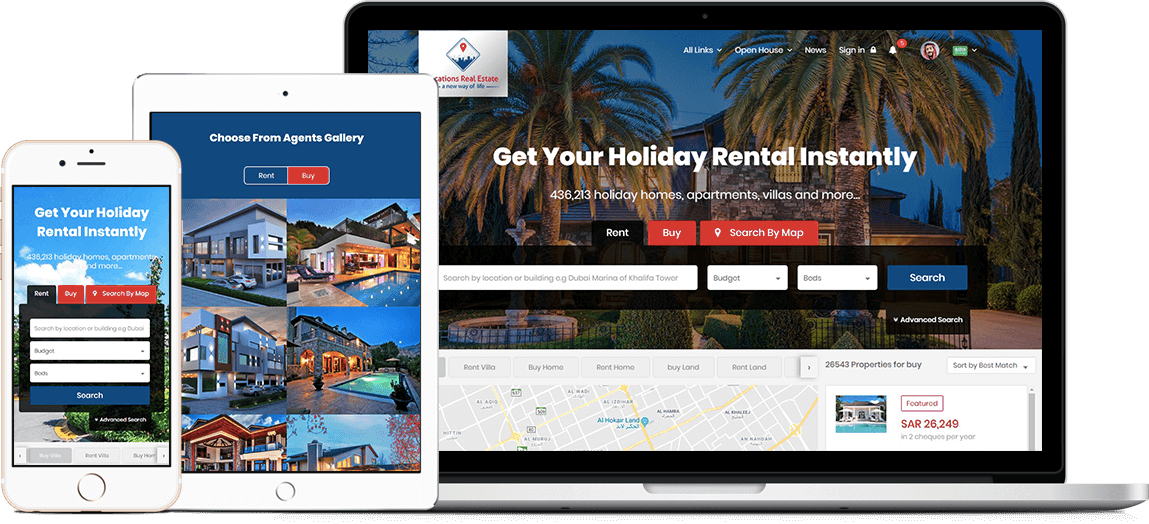 Website :

IOS App :

Android App :
Web Technology :

Mobile Technology :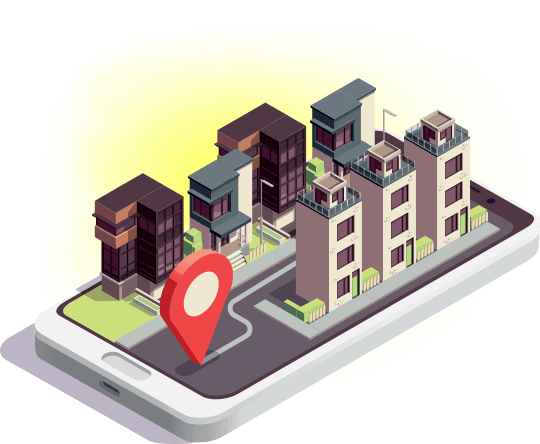 Real Estate Mobile App Design
Locations KSA approached us to develop and design a real estate website where agencies can post their offers and increase their ROI. Connecting buyers, sellers, and agents, Locations KSA aims to be one of the biggest players in the Saudi market. Our Role: Together with Locations KSA, we worked to get their idea to the table and polish it to match the market demands. After a thorough study and research, we developed and design a real estate website with a plethora of advanced features and options.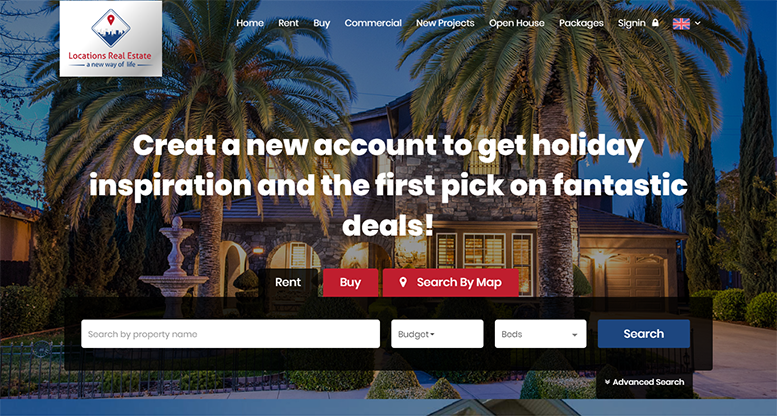 Give Soul to Buildings
Our human-centered approach always propels us to make use of the best design practices and trends. Real estate properties are sometimes depicted in a dull and unattractive way. We advanced a variety of high-resolution images with vivid colors and different moods. After a thorough process of testing, we took the right decision together with our client to come up with a design that everyone agreed upon and was happy with it.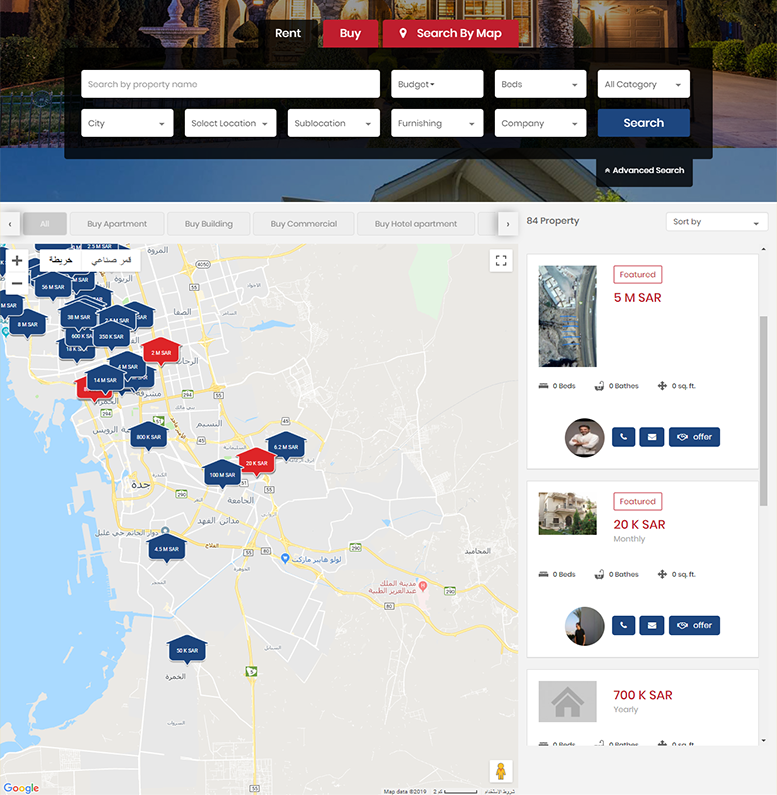 Well thought-out Home Page
Our team of UI specialists made sure to develop and design a well thought-out home page where all important components are displayed and implemented. Straight on the top of the home page, simple and advanced search tools were incorporated and filters were selected meticulously to give users what they look for. We used in this portal filters such as city, budget, location, sublocation, beds and so on. Scrolling down, visitors are able to see the featured properties juxtaposed with their exact positions on Google Maps. Thus, they will make their decisions easily as locations are displayed for them to navigate, study the location and get directions. Without this very feature, a real-estate website cannot keep up with competitors.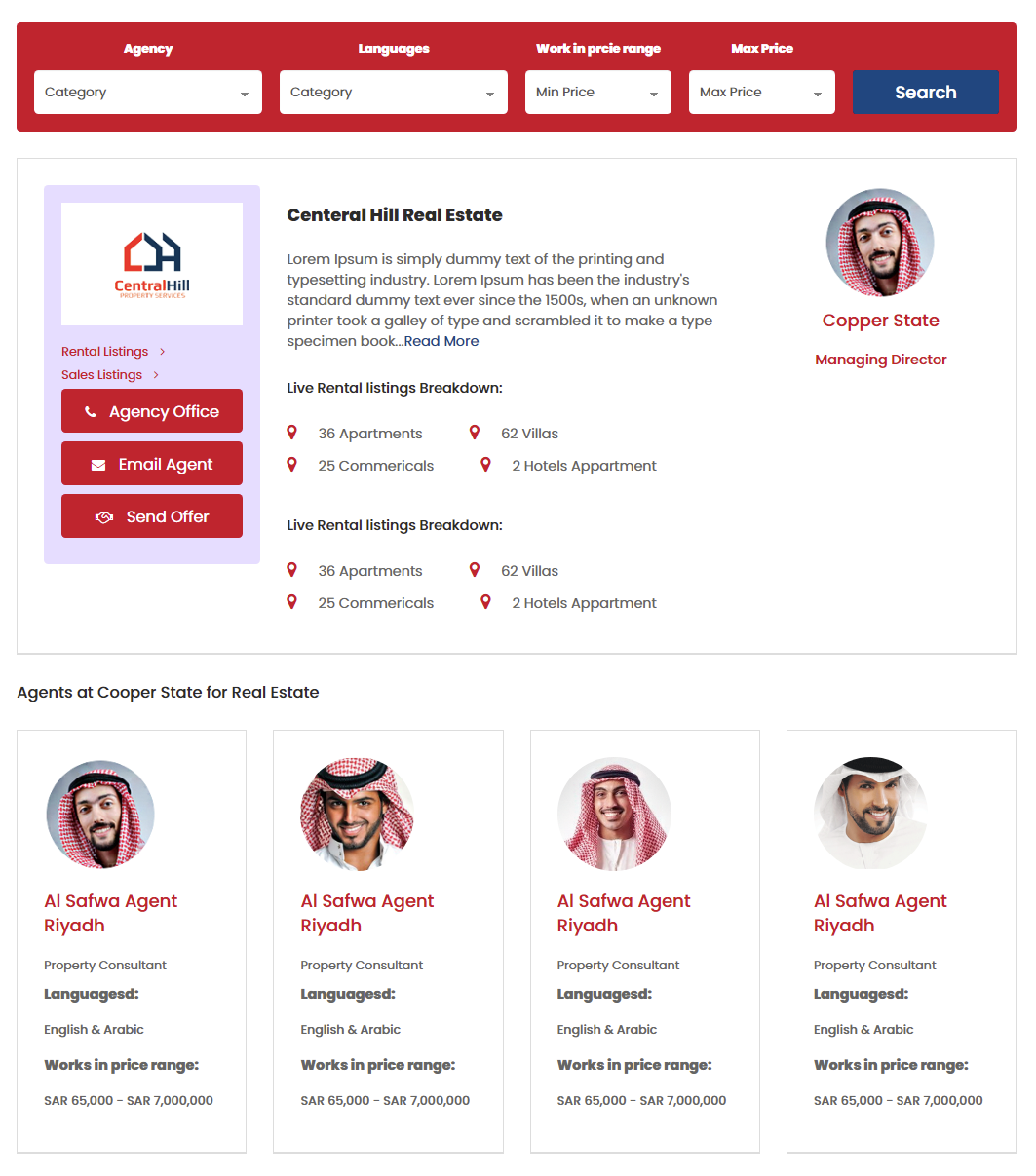 Detailed Agents Contact Page
Detailed Agents Contact Page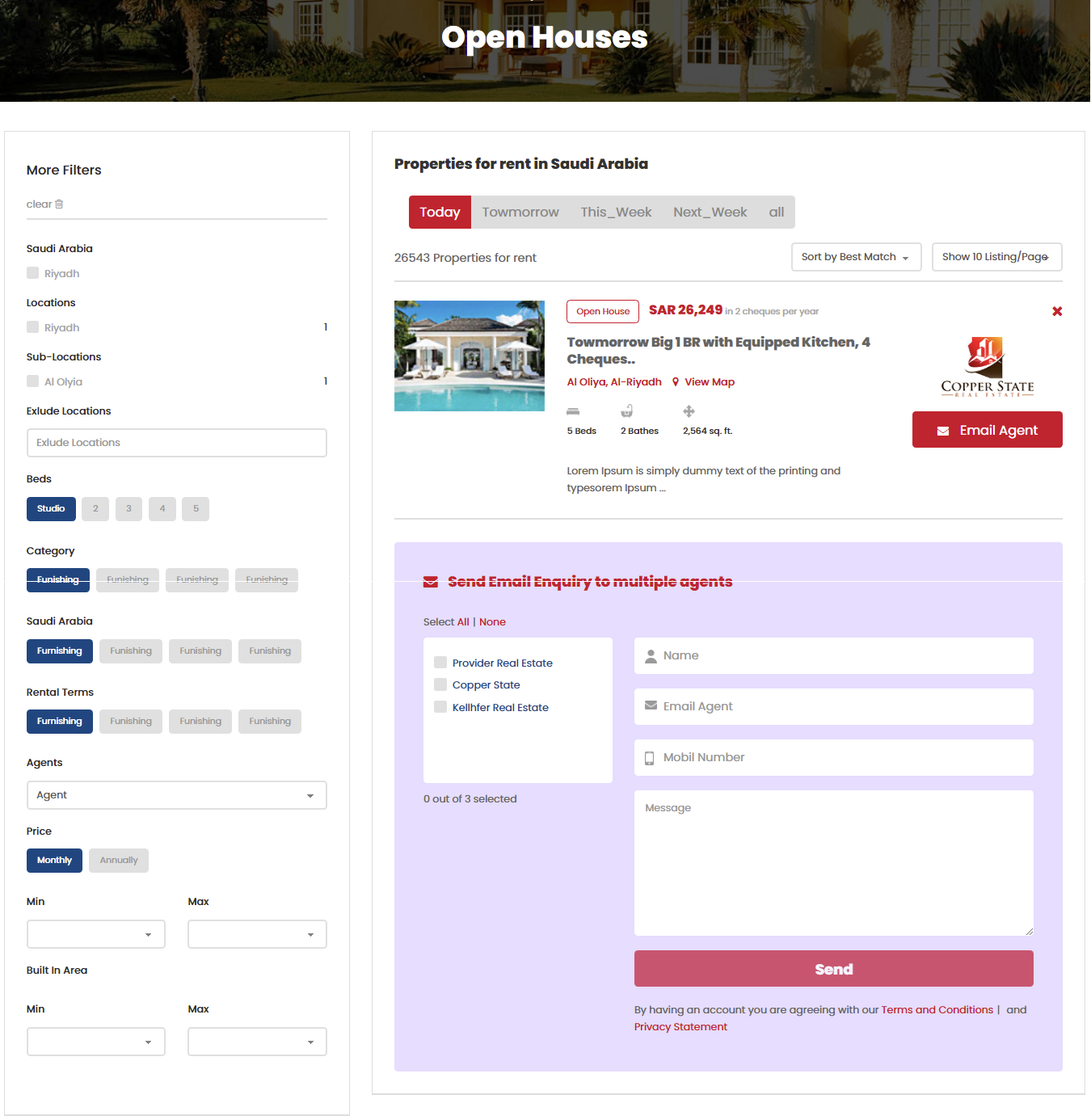 Search by Location Service
Search by Location Service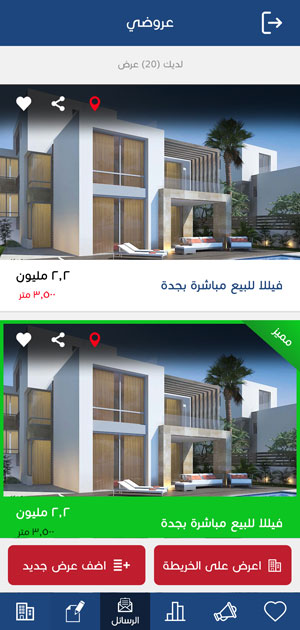 Properties Listing With Featured Labels & Colors Options
Properties Listing With Featured Labels & Colors Options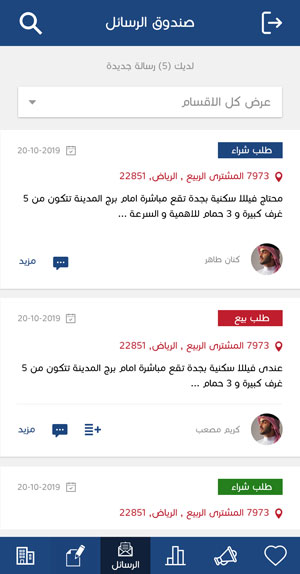 Private Inbox For Premium Agents Option
Private Inbox For Premium Agents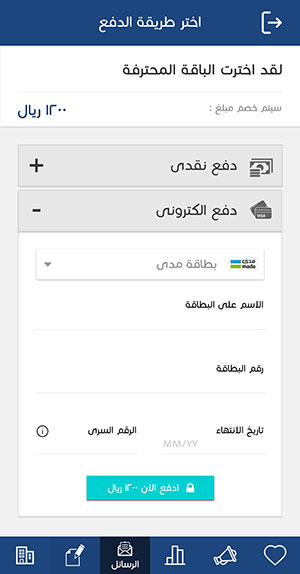 Online Payment Option Installed
Online Payment Option Installed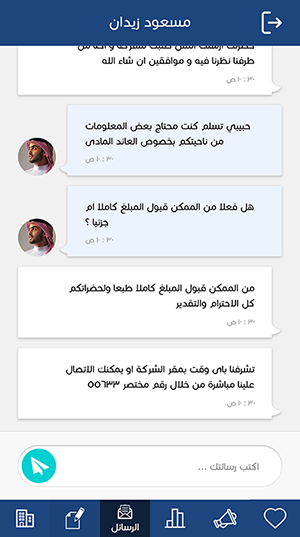 Opening Chat Between Client & Agent
Opening Chat Between Client & Agent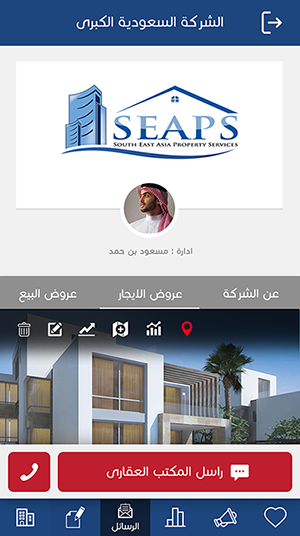 Agent Details With His Listing
Agent Details With His Listing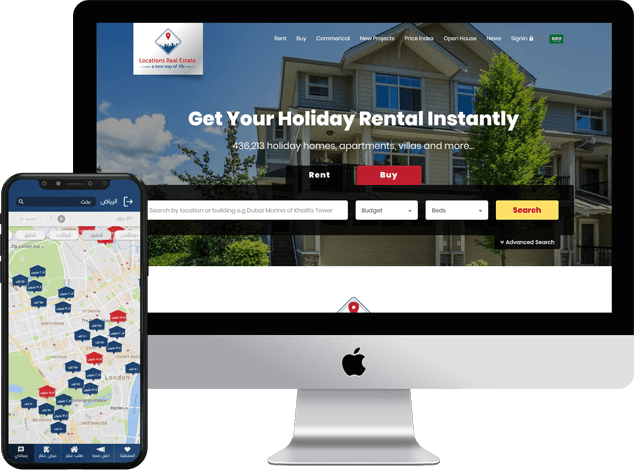 Top-notch Experience on all Devices
Along with developing a website application, we were commissioned to develop and design an app for iPhone and another Android. We opted for creating native apps, championing ease of use and speed of this type of mobile apps. While creating two separate versions of the same app, we make sure to cater to a single user experience on every device without feeling any difference in design, feel, mood, font, speed, etc. With an average of 10000 visitors coming to the website each month, we sought to optimize their experience regardless of the device they use.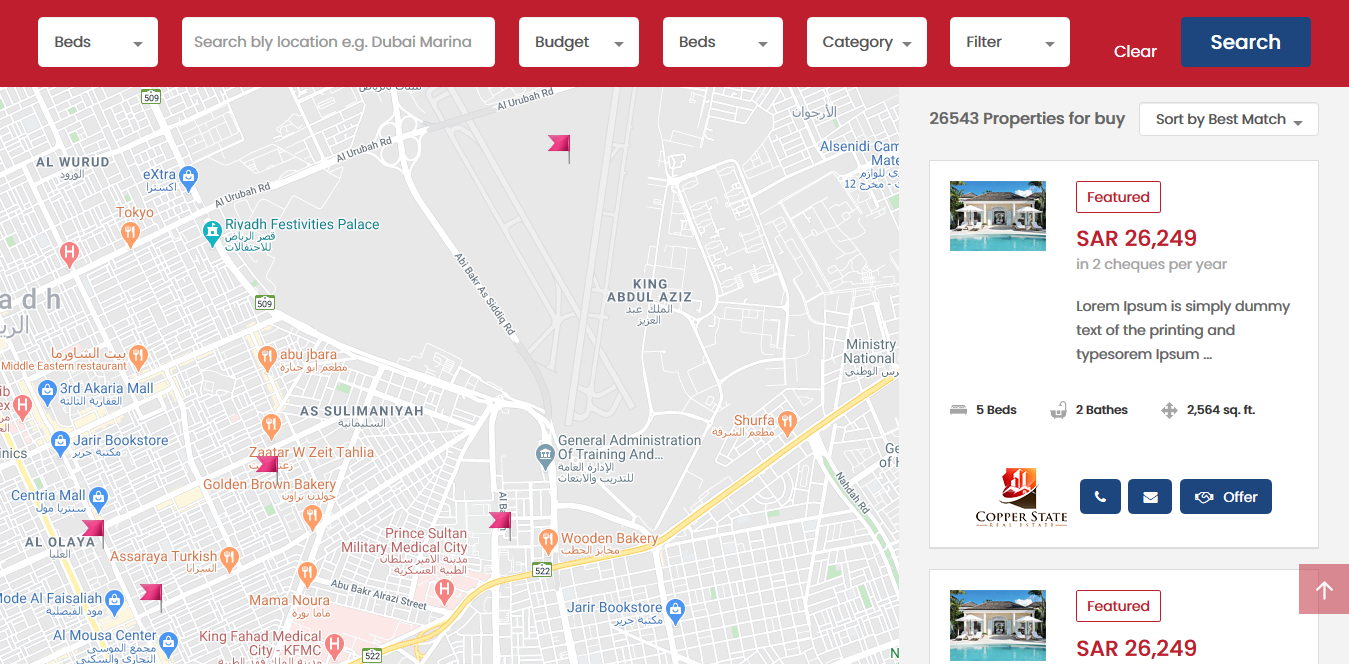 Rent & Buy With Map Locations and Listing
Our client opted for monthly subscription packages that we've successfully integrated. For real estate agents to subscribe, they have the opportunity one of the packages offered on the website and then pay its fees. The latter step is of utmost importance, not only for our client but also for us as developers. In order to meet all needs, we strove to implement effective payment gateways that allow for international payment methods such as PayPal and Internation Cards (MasterCard and Visa) and local payment methods such as Sadad and Mada.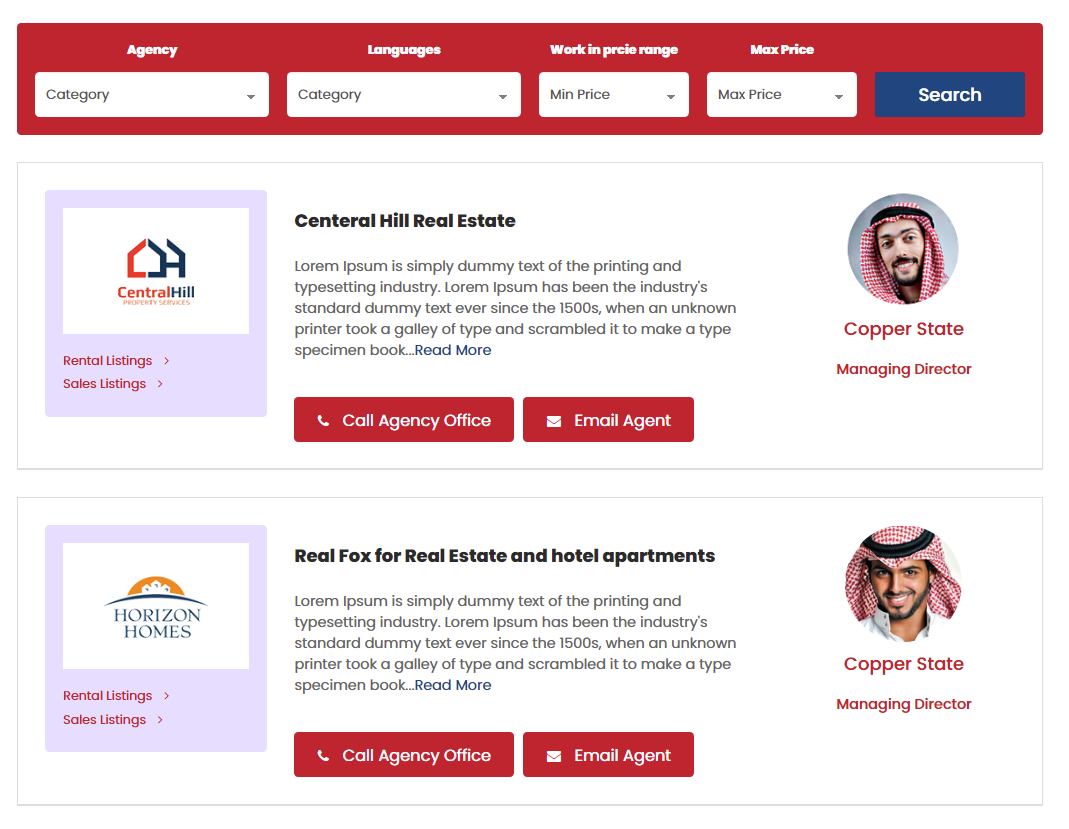 Agent Listing With Full Contact Details
As part of this project, we needed to develop a flexible, easy-to-use, quick-to-manage member database from the ground up. We have three stakeholders to take into consideration: website admins, agents, and clients; each of has their own needs and demands. Client accounts should be quickly created and managed. When they want to contact agents, they would have all the means to communicate clearly, quickly and instantly with them. Once they encounter a problem, they are able to report it to the administration. The same applies to real estate agents; they should be able to add their contact information and offer details as seamless as a possible way without requiring technical skills. The Member database designed for agents is specifically tailored to make payment accessible and secure. Whatever the payment method they want to choose, we make sure our database meets their needs. Website admins have more workloads and data to deal with than any other stakeholder. That's why we had the idea of embedding an agenda for them to take note on and schedule their meeting. Our integrated agenda reduces the risk of forgetting their meeting or duties and enables them to collect and plan their work in one place: their dashboard. Admin dashboard enables to: Successfully manage and get real-time notifications of all requests be it ad requests, membership requests or others. Seamlessly manage all the projects, be updated with any change in real time and get exact statistics about site visits and real estate agents and more. Effortlessly upload ebooks on the e-library for all real estate agents to download and maximize the benefits of subscribing to the website. Update the package section and make any changes in pricing, details, and title.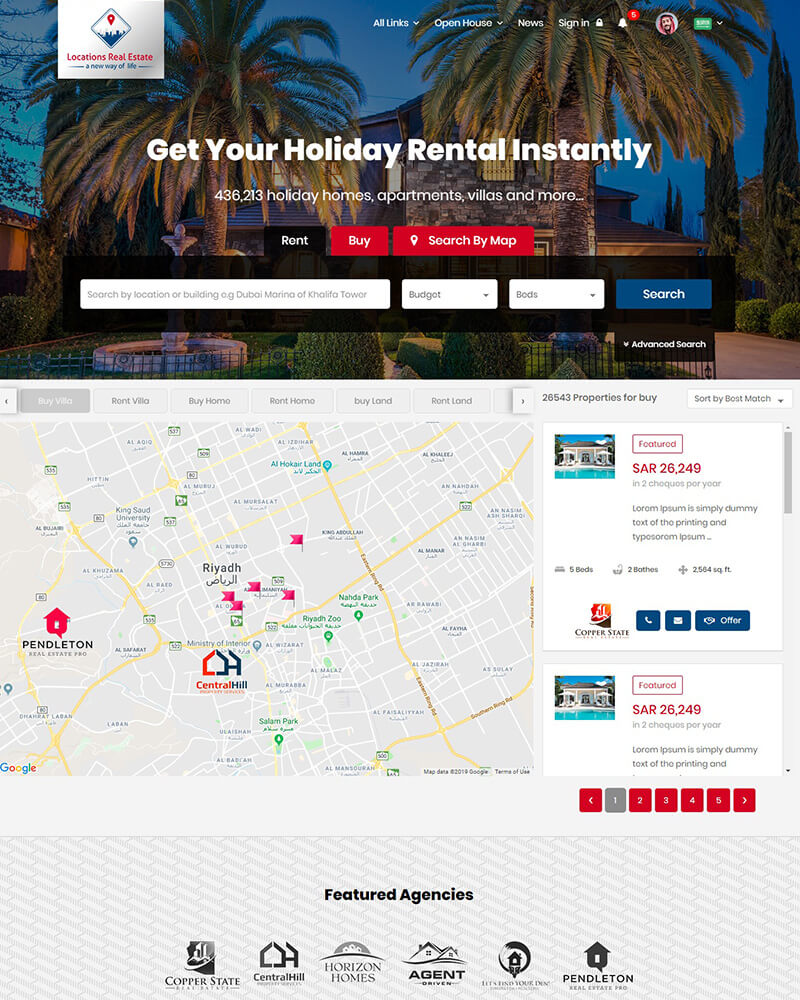 Properties Grids Listing
As we know how this is very important for google these days to have a high speed page loading so we guarantee that our projects have a high loading speed in both Desktop and mobile.
Features
Payment Gateway Integration
Automated Financial Reports