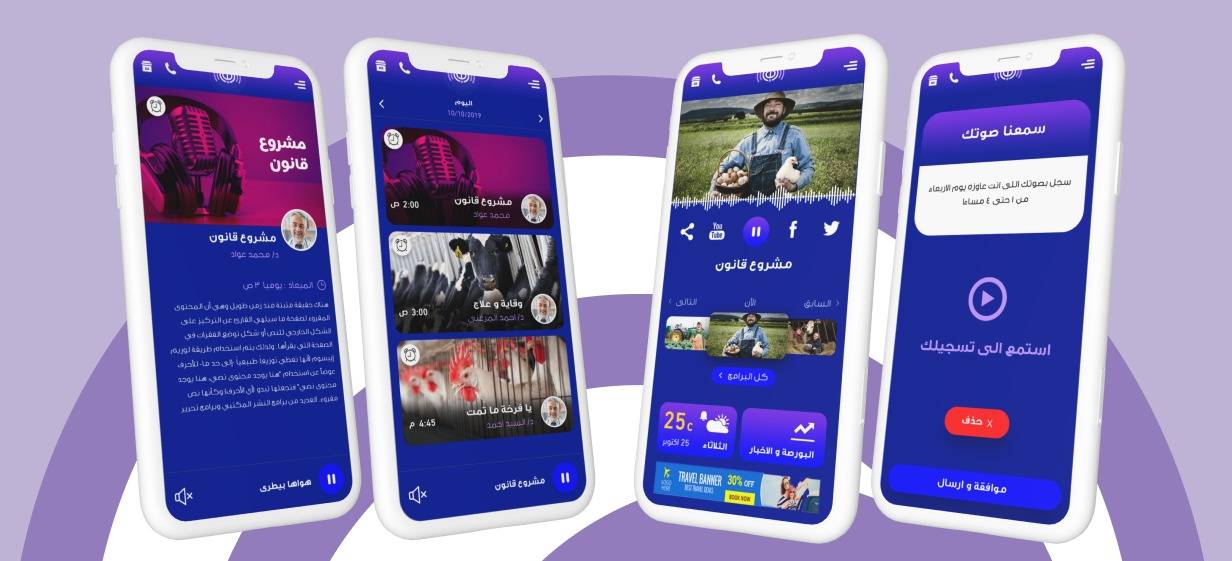 Website :

IOS App :

Android App :
Web Technology :

Mobile Technology :
Online Radio App Development Company.
Designfy team had the pride to develop the first specialized internet radio mobile application in the MENA region, called Hawaha Betary— aiming to provide scientific-based content for people working or interested in veterinary practices, zoo/wildlife medicine, and livestock health management, in addition to the entertainment and cultural programs. Radio Hawaha Betary mobile app enables its users to listen to the live streams, the archived "On-Demand" programs, and even use the app to view program schedules.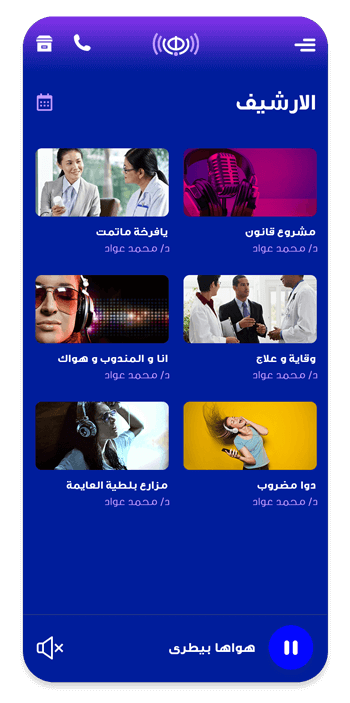 What's Hawaha Betary Radio App?
The widespread use of smartphones and mobile applications in our everyday life make online presence a fundamental factor of success for all businesses. Due to this undebatable fact, Alboraq Group— a well-known group of companies specialized in Vet. Medicine & Feed Additives, communicated with Designfy to design and develop a unique and never before seen radio app for their business that will be the first online radio mobile app with iOS and Android versions, providing live streams 24/7 for a diverse number of invaluable programs in the animal health and welfare sector, with the ability to listen to these live streams/archived programs through Hawaha Betary's Website.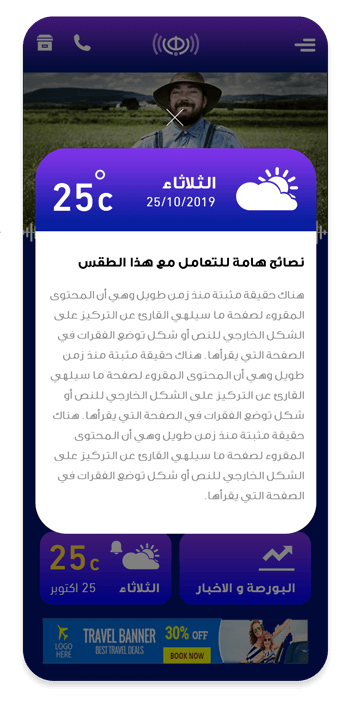 Why Mobile App Design is Important?
Designfy is one of the best mobile app development companies because of the qualified team members who love what they do and have got the extensive experience needed to take any challenge in mobile app development. That's why there's no wonder to produce an outstanding radio app to keep you connected with listeners everywhere they go. Our mobile apps are developed from scratch with a mix of advanced technology that guarantees complete safety with functionality, and practicality to fit all the needs of your radio app.
We believe that mobile app design is something that could make or break any mobile app. The way an app is designed is one of the most important aspects of the mobile app development process, because it dictates how users interact with that app. Also, mobile app design represents the brand image and helps in building an impactful first impression on the users.
For these reasons, Designfy focuses on the UI/UX design by creating mobile apps consisting of great visuals, infographics, and proper theme colors, specifically tailored to fit the business model, and to attract its users' attention at the first go.
Keeping all that in mind, our team developed the Hawaha Betary radio app with a hassle-free and enjoyable user experience. Actually, Hawaha Betary radio app is up and running now and it broke all the stereotypes according to users' reviews and ratings on Google Play Store and Apple store, and we're developing the second phase of the project with more features to be added.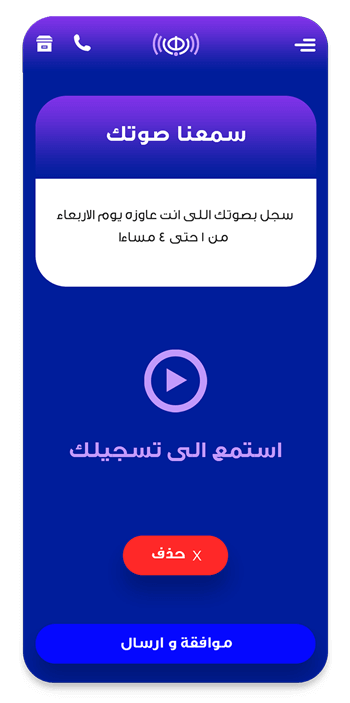 Audio Library in Hawaha Betary Radio App.
Designfy team created an audio archiving feature to archive all programs of the Hawaha Betary radio app. This online audio library feature collects and organizes programs by descending date to easily allow the app users to find and listen to any archive through the built-in audio library.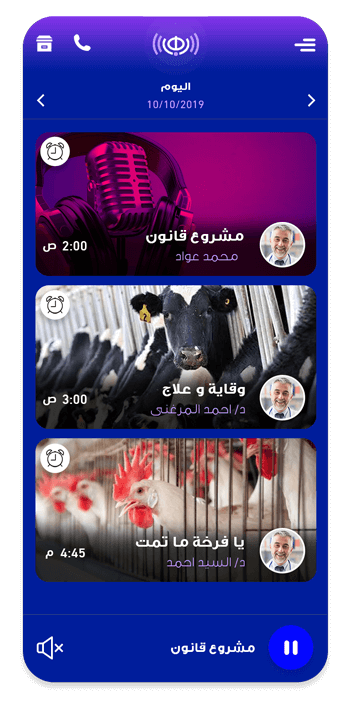 Weather Analysis Reports and Expert Forecasting
One of the main advantages of Hawaha Betary radio mobile app is that it hosts programs and invites consultants and experts in meteorology to provide accurate weather forecasting reports for veterinarians and people working or interested in the animal production industry. Our mobile app development team installed a notification system to keep the app users posted whenever a new weather report is released and to be displayed in a simple and engaging way for the end-user. Undoubtedly, such meticulous reports will have a positive impact and increase awareness and knowledge of the livestock producers.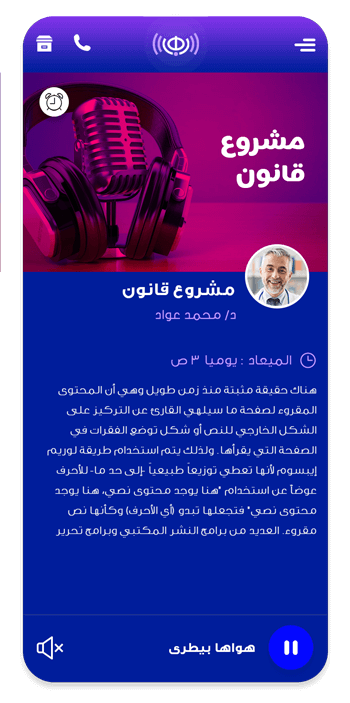 Contests and Talent Discovery Programs
Nowadays, teens and young adults wanna take the opportunity to express their creativity and talents and become program presenters.Therefore, Designfy team implemented tools to enable the app administrators to receive requests from interested individuals during the contest period and even to send instant notifications to participants.
Participants will be able to record their voice from their iOS or Android radio app and send that recorded audio to be assessed by a special committee. In the end, winners will be able to host a program in Hawaha Betary radio app or recommend them to other online radio apps & radio stations.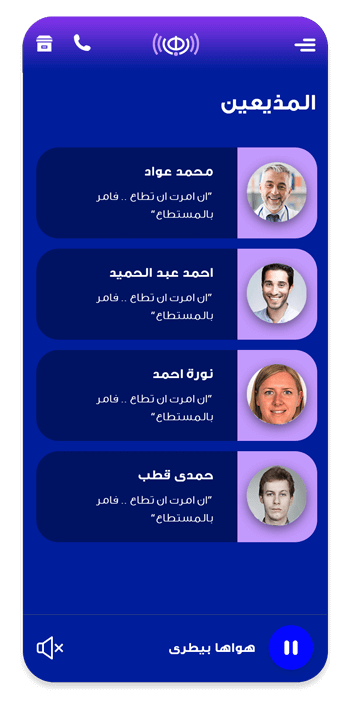 Programs List, Schedule, and Alarm Notification Once Any Program Starts Running
The radio app admins can manage programs' timing and stream effectively via an advanced control panel. Also, the app users will easily set an alarm for the programs they're interested in and be notified once these programs go live.
Our professional developers amazingly made this feature to enable Hawaha Betary administrators to put every thought into action through a detailed, yet simple dashboard.

Program Details
In this section, all info related to the programs' description is displayed in the radio Hawaha Betary mobile app. These details include, but are not limited to the program's timing, content, target audience, and the presenter's name.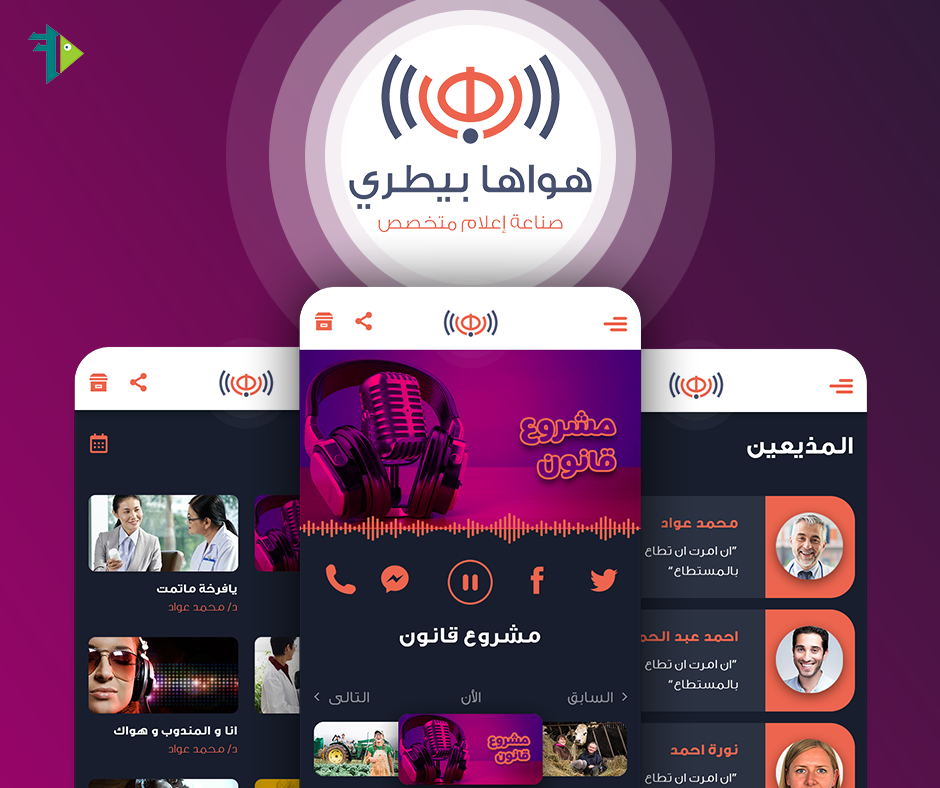 Hosts and Presenters
Hawaha Betary radio app provides a complete section for the program's hosts and presenters in an appealing way.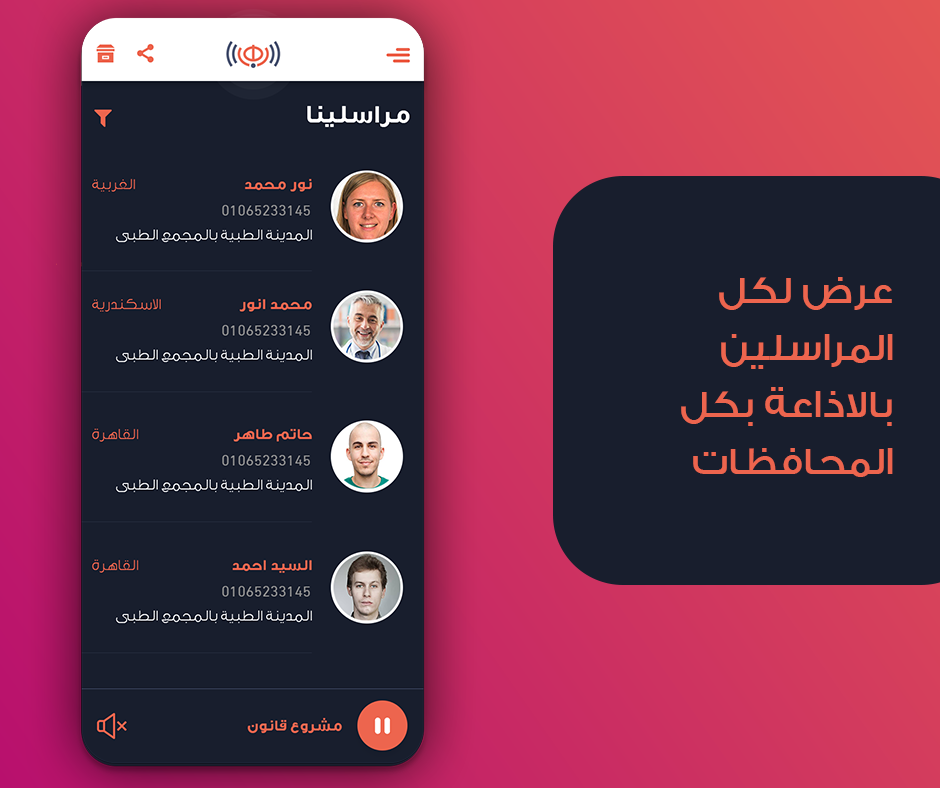 Detailed Profile for Each Member of the Radio App Workers.
Because Hawaha Betary radio app is the first specialized media platform in the animal production and veterinary medicine sector and provides scientifically-based information for its listeners, it was crucial to show a resume-like profile containing the presenter's qualifications, years of experience in this industry, an archive for the previously recorded episodes, and how the app users can contact them.

Finally, if you wish to build your own streaming radio app, with stunning visuals and impressive functionality, know that Designfy is your best mobile app development company with academic experts of designers and developers who have got the experience to take care of everything and will deliver you the best mobile radio app for both Android and iOS systems.