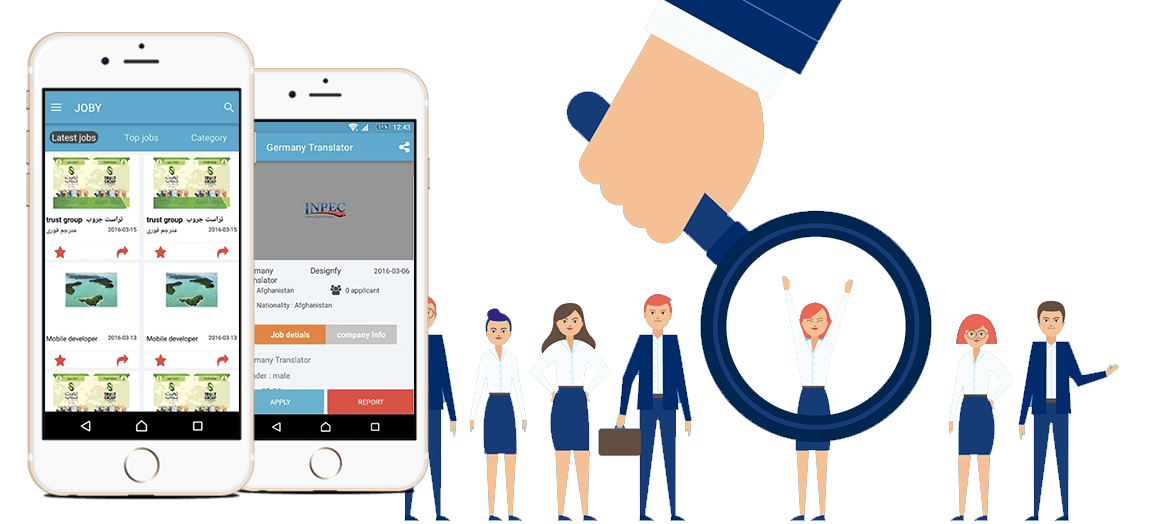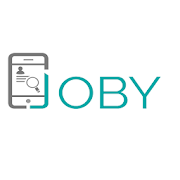 Our Client
Joby is an emerging startup founded in Egypt as an innovative online recruitment agency. They help recruiters find the best fit for their business and job seekers to find their next job. Joby wants to position its brand as an alternative for geographically-restricted recruitment agencies and an effective solution for job seekers to showcase their talents and knowledge and find the perfect job. Our Role: Designfy partnered with Joby to create their mobile application and CRM platform from the ground up. We also worked together to create a logo and brand that distinguish them and make their unique identity rings all over the MENA region. All of the departments in Designfy collaborated to quicken the metamorphose of Joby from an idea to a full-fledged solution. An Identifiable Brand
As a new entrant in the digital pool, Joby needs an identifiable and strong brand that stands out and attracts companies and job seekers. To come up with a design that serves as "silent ambassador of the brand" (Paul Rand), we conducted a thorough and insightful interview with our client to know their exact business goals and get some directives. After clarifying these details, our designers and developers worked hand in hand with our business department to parse competitors and business verticals. This enabled us to pinpoint the particularities of the recruitment industry and different user's personas. Every subsequent phase resulted in a distinctive logo, clear style concepts, and harmonious visual elements. Along with user-friendly and mobile-responsive overall design, Joby was born as a recognizable brand ready to lead the recruitment industry. Recruiter Dashboard
Joby positions itself as a better alternative for the recruiter to broaden the scope of their hunt for the best talents and experts. Thus, Designfy team kept this in time throughout the process of creating the recruiter dashboard. Through the screen of a smartphone or tablet, things look different. We worked hard to come up with a simple yet smart user interface. Recruiters are on a hurry and they have a business to run. At Designfy, we know how to make time gold and Joby showcase this. Joby is not another unused app on your mobile app or one of those apps you delete because of the redundant notifications and so many unnecessary features. We restricted ourselves to the most useful and worthwhile features in order to maximize your productivity and comfortability. To bring the best possible recruitment process to recruiter's fingertips, Joby ought to provide quick access to jobs and candidates. Real-time notifications would be received whenever a candidate applies to the recruiter's job offer. The recruiter would check the candidate profile, consult his/her CV and browse through all details and information seamlessly. Going through candidates profiles, he/she will overview insightful information about the candidates' previous experiences, their education, and skills, current job, current location, etc. This helps them to evaluate the job offer at a glance and shortlist matching offers. Afterward, shortlisted candidates are selected without losing track of your received CVs and data. Joby is more than just another recruitment mobile app. Recruiters can foster their presence through simply registering and linking back to their website and social media accounts. They are also able to know more about their competitors. User Dashboard
Job seekers are always ready to download a recruitment app to look for their next adventure. In order to maintain them in, Joby needed to mold the best experience. Along with smooth and simple navigation and attractive UI, Joby allows for more advanced features. Candidates are able to register, upload their photos, fill in their information and upload their CV files right away from their device. They are able to search for jobs by multiple filters according to the industries they want to explore. They can custom their push notifications to receive certain new job offers. Integrating the accurate system, candidates would never be annoyed by unrelated job offers. We are sure none of the recruitment apps want their job seekers to receive notification about "waiter vacancy' when they set notifications on "writer vacancy". It is a common and redundant default some notification systems fall prey to. Once candidates submit their application, they will automatically get notified by any updates. Candidates won't miss the chance to get themselves prepared for the job interview nor the thrill brought about the prospect of being recruited.