How to Develop a B2B or B2C eCommerce Marketplace?
In this article…

Marketplace Development: How to Develop B2B or B2C eCommerce Marketplaces?
There's no denying that eCommerce is in the peak of its blooming, and that it's still a very ripe market, with promising potential. Naturally, this has made eCommerce development quite popular, as online marketplaces are taking the world by storm.
But what does it take to create online marketplace services? Is it just an eCommerce Platform? Are eCommerce solutions necessary? How about eCommerce cloud services?
Not to mention, is developing an eCommerce website in Egypt worth it? And if so, what is the best eCommerce development company in Egypt?
If questions about
mobile app development
for online marketplaces are making you lose sleep, this article is your chamomile tea. Keep on reading to learn the ins and outs of online marketplaces and how to develop an eCommerce marketplace.
What is a Marketplace?
In the shortest form, an online marketplace is where buyers and sellers meet online instead of going to physical shops. And just like you'll find plenty of competitors in the same area in the physical marketplace, you'll find more than one seller in the same category, subcategory, and even the same product.
What's the Difference Between a Marketplace and an eCommerce Website?
In brief, every marketplace is an eCommerce platform but not every eCommerce platform is a marketplace. For a platform to be considered a marketplace, you have to have various suppliers selling their products to various buyers, all in one place.
eCommerce platform refers to any website or app that allows its users to find goods and make purchases, whatever the process or distribution is.
So, What Are Online Stores?
Online stores are personalized websites or apps that sell only one supplier's products, and they require a lot more effort when it comes to the marketing field as the creator needs to have a content strategy, a marketing campaign, and find ways to bring traffic to their online store.
Of course, if your brand operates in a marketplace, the threat wouldn't be acquiring traffic and creating leads, but competing with other sellers in the marketplace.
Is an eCommerce Marketplace More Cost-efficient?
Cost-efficiency is a relative matter when it comes to eCommerce platforms. There are plenty of variables that you should take into account, but the main two factors to decide based upon are as follows:
The price of a subscription or the fees you have to pay with every listing
The expenses of a marketing campaign
The first point is associated with marketplaces, while the second is associated with online marketplaces. So, you should calculate both these metrics, and upon them decide which option is the more affordable one in the long run for your business idea.
What Are the Types of Marketplaces?
When we're talking about marketplaces, it's easier to categorize them in order to make sense out of their operation mechanisms. Marketplaces are generally divided into the following subcategories:
Product Marketplaces
These are where consumers can find plenty of goods and products that fit their needs from various sellers.
Examples include: Souq.com, Jumia, Noon, Talabat, and Foody, all of which are B2C marketplaces. Tawridaat, Tadbyr, and BuyMassry.
The sales model of the marketplace could be an auction one, fixed price sale, or mixed type marketplace, which offers the maximum flexibility to sellers.
Service Marketplaces
A service marketplace is where a group of people that provide various kinds of services gather to offer them to people in need of those services. This can include household and repair services like Kazzeem, Fil Khedma, and Tandeefa.
They also include transportation like Swvl and Careem, IT-oriented ones like Mostaql and Upwork, and super delivery apps like Mrsool, Engezni, and Wassaly.
Project Marketplaces
Project marketplaces are concerned with fundraising, especially and most commonly crowdfunding, to kickstart startups. People that back the projects are allowed to use the final products or get a number of shares, and this exchange is the basis of this marketplace.
Hybrid Marketplaces
The most notable hybrid marketplace in Egypt is Olx, and Dubizzle previously. They come with some or all of the following features:
User login or social login
Creating lists (wishlists and favorites)
Ratings and reviews
Bidding
Sending invoices for payments
An option for search
Dispute resolution and check ups on issues
Time-tracking
Product variations, where sellers can indicate the various physical features like color, size, and quantity included
Collective stores
Estimates for shipping fees
Statistics
Coupons, discounts, vouchers, and promo codes
Layered navigation in order to explore subcategories
Subscription to newsletters in order to get the latest offers
Various formats for buying
How to Develop an eCommerce Marketplace?
In this section, we'll delve into the tiniest detail regarding how to create an eCommerce marketplace and what the must-have operations checklist is.
1. Having a Platform
Before you get started with operations, you have to have a website or app through which the transactions will happen. You can either go with writing the code and building it from scratch, but this requires hiring developers and making sure they document their process very well for future edits or updates.
You can save some time by using open-source software, but you'll still need about a month before launching, and any updates required must be handled by your own development team.
And though website builders, no-code marketplace builders, or building on top of an API of a marketplace that already exists are all viable options that will get you fast results, they'd never be as efficient or personalized to the user's experience as developing your own platform would be.
2. Login
First things first, your users will want to create accounts to personalize their shopping experience, and you should facilitate the process by allowing for social login through various channels like Facebook, Gmail, Twitter, or phone number.
The process should be easy and hassle-free, with little to no effort required on the user's end. You can even allow users to browse as a guest and then create an account when they want to use more advanced features like wishlists or making orders.
3. Logistics

Inventory Management



When we're talking about an eCommerce app with products, you have to consider where you'll keep the stock, if you'll be keeping any at all. Indeed, some eCommerce marketplaces allow instant fulfillment, like FBA (Fulfillment by Amazon) and Fulfillment by Souq.com where you can keep your products in the company's storage as well as have them shipped or delivered through the company's carriers. In this case, you're only an intermediary between the user and the marketplace platform.
Payment Methods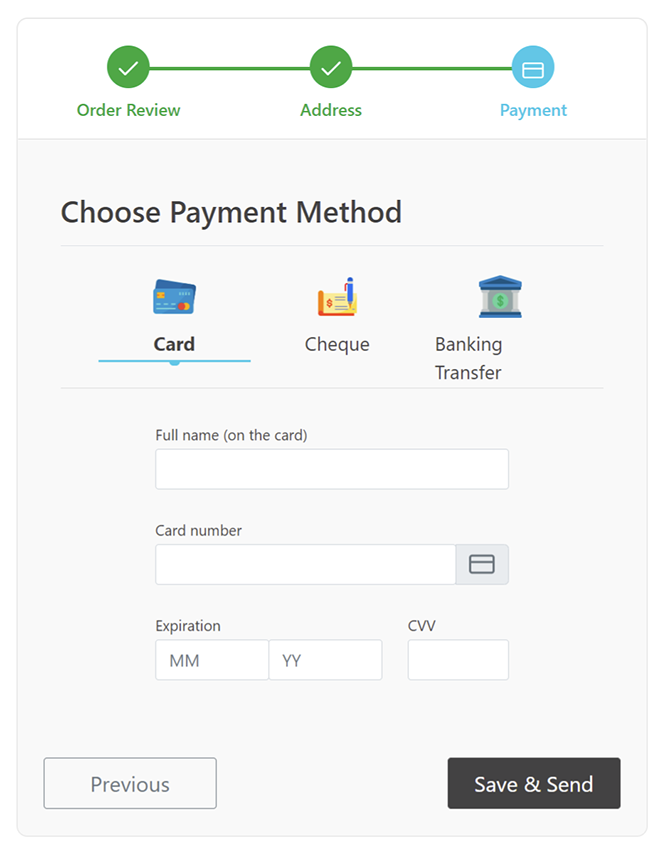 In order for any and all of your target customers to use your marketplace, you should facilitate the payment process down to the smallest hassle.
Firstly, you should provide various payment methods, like credit cards, debit cards, and cash on delivery. You can also make use of POS like Fawry and Bee.
Adding a wallet to your marketplace that people can charge for instant use is also a viable option. Better yet, allow customers to recharge the wallet through direct deposit from their bank accounts.
Delivery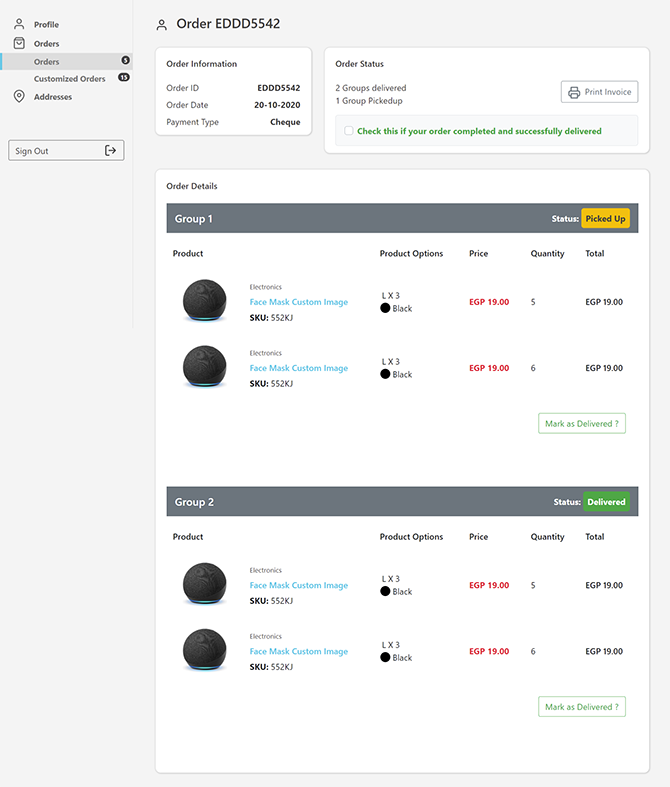 The integration and fulfillment between the moment the customer presses the checkout button and the delivery of the product to their doorstep isn't easy to manage, which is why it needs some extra attention.
Make sure to have a sufficient number of delivery captains for the number of orders you get, to optimize their travel destinations and distances, as well as add live tracking so that the customer can see where the captain is on the map and prepare to receive the shipment.
You can also add third-party delivery or carrier services, like Egypt Post, Couriers, DHL, FedEx, and Aramex.
4. Customer Acquisition and Retention
The marketing funnel consists of many rings, and the more there are at each one, the more customers fall into the one after. This is why you want to gain the maximum customer awareness, which you can do through marketing campaigns.
Analyze your marketing tools to find where most customers are coming from, whether it's directly to your website's URL, referrals from other websites, through search engines (namely Google), social media platforms, or mail and newsletters. This helps you enhance your campaign by budging underperforming sources and capitalizing on the ones that bring in most traffic.
You can acquire customers and retain them by keeping them hooked with eCommerce loyalty programs, coupons, discounts, promo codes, and offers. Not only that, but notifications that are directed to each customer's interests, searches, and use intent would work wonders on making sure customers return.
5. UI/UX
To keep your customers satisfied, you should give them the best experience an eCommerce marketplace can offer. This includes adding features like easy navigation, wishlists, and facilitating the search process through filters and keyword-related queries.
Not only that, but for a marketplace to become trustworthy in the eye of a customer, there has to be a feedback mechanism through product and seller reviews. This way, your audience will feel comfortable enough to shop through your platform.
6. Finances


You should count on a CRM (Customer Relationship Management) software where you can keep the data of your prospects, existing customers, and possible leads. Not only that, but also to track the interactions and transactions of customers, monitor abandoned carts, and share the information or data with the data analysts on the team.
With this mechanism, you can learn exactly when your customers don't follow through on the marketing funnel, and also figure out the reason behind such occurrences.
What's more, your marketplace should have account reports and financial reports to indicate exactly where expenses are going, whether you're underspending in a certain aspect, or need to cut down on another to meet your business KPIs.
What's a Good eCommerce Marketplace in Egypt?
Depending on the category of the marketplaces that you're talking about, but the most popular names include:
Souq.com
Noon
Jumia
Olx
Swvl
Building Your Own Marketplace Platform


As we've mentioned before when talking about marketplace development, there's plenty of know-how that goes into the process, and our team at Designfy is not only qualified, but absolutely passionate about bringing your marketplace innovation to life.
This is because we have a team of hand-picked developers, with demonstrated experience, that create the platform for you. Not to mention, we've worked on top-notch eCommerce marketplaces like Tawridaat for B2B eCommerce and Foody for B2C eCommerce.
Conclusion
Whether you're planning on creating a marketplace or an online store, you should start taking actions from this moment, as the competition is vicious in this market, and it's still quite ripe. So, what are you waiting for? Get started on your eCommerce marketplace from this moment.
Contact Designfy Now and Talk with an Expert to Develop your Online Marketplace:
Mobile/Whatsapp (+20) 100-132-137-9.
Landline call at (+20) 337-737-10.
Send us an email at info@designfy.net, or through the contact page on our website.
Visit our head office at Villa 82 G, 1st Gate, Pyramids Gardens, Giza, Egypt.
Leave a Comment