Taking Advantage of the Booming B2B and B2C eCommerce Marketplaces
There's no denying that the Coronavirus (COVID-19) has had a huge impact on the shift from traditional shopping to online shopping.
In the 1970s, EDI (Electronic Data Interchange) and teleshopping became quite popular, paving the way for eCommerce development as we know it today. Naturally, the more widespread the internet became, the more eCommerce prevailed for countless reasons, which we will delve into throughout the article.
And though plenty of eCommerce solutions and many eCommerce platforms have existed since the early 90s, most notably of which is Amazon, the idea is only starting to prevail in Egypt.
That's why it's not exactly the easiest thing to find the best eCommerce development company in Egypt, but that doesn't mean that there aren't. It's just that the notion of developing an eCommerce website and trading through the internet is still taking form.
eCommerce transforms the shopping experience from something exhausting, be it in terms of money, physical effort, or inability to scan all products, to something you can enjoy from the comfort of your bed or couch. So, how can you use mobile app development and eCommerce cloud services to your benefit? Let's talk about that.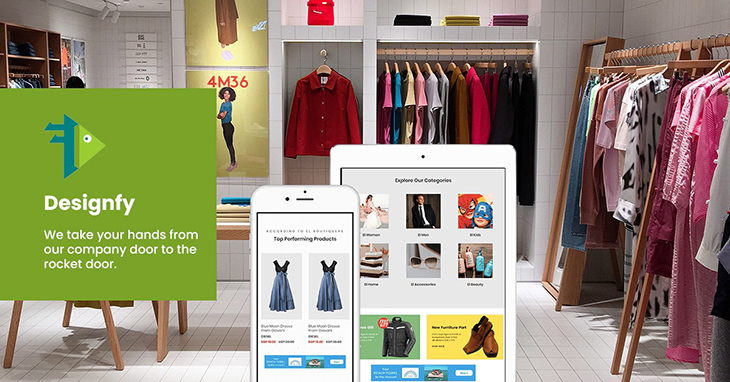 eCommerce Industry and Market Size in Egpyt
There's no denying that the Coronavirus (COVID-19) has had a huge impact on the shift from traditional shopping to online shopping. As a matter of fact, plenty of people have had their first eCommerce experience during the outbreak.
The forecasts show that by the year 2024, eCommerce would reach a share of ⅓ of global retail sales generated, which speaks volumes of the opportunity that people have right now to reach out to a software development company and get started on their app.
Not to mention, there's a governmental move that aims to digitize almost all transactions, including banking, shopping, security, and more. This is according to the ICT strategy that focuses on eCommerce, e-government, human resource development, and digital manufacturing.
Between all the countries in the MENA region, Egypt has the biggest number of internet users, and the numbers were only expected to rise up to 53.5 million in 2019, which is around 8% of transactions made through the internet.
And there's no denying that some apps have become flagships in the eCommerce field, namely Jumia, Amazon's subsidiary, Souq.com, and the increasingly popular Noon.
What is B2C eCommerce?
B2C stands for Business-to-Consumer, which means that the business sells products directly to consumers for personal use. This can include electronics, fashion, cars, services, and so much more.
What is B2B eCommerce?
Alternatively, B2B stands for Business-to-Business, so the scope is much bigger. This means one business selling goods and services to another business, and that's why this can include things like office chairs, marketing services, management software, and other administrative items.


What's the Difference Between B2B and B2C eCommerce?
The marketing campaigns are similar in terms of technicalities whether you're operating B2B or B2C, including improving ad placement through negative keywords or reducing cart abandonments through retargeting.
However, there are some slight differences between the operations of the two, and understanding them can help you optimize your campaign. Without further ado, let's get right into them.
1- Company-Customer Relationship
With B2B, you want to focus on creating personal rapport to start long-term business. This means that building relationships during buying cycles is one of your most important targets in order to build your brand, prove yourself, and distinguish yourself from competitors.
Creating leads is basically how you kickstart your business as referral and repeat business is the key to keep your B2B company up and running.
On the other hand, a B2C company would need more focus on driving sales, which means that you want to push the consumer to buy and maximize the efficiency of the transaction. In other words, there's no need to build relationships or rapport.
It's important to note that reviews have a much higher weight with B2B companies than they do with B2C, as the former's reputation can be affected by negative reviews, while the latter's negative reviews can easily be buried by positive ones.


2- Branding
Again, creating the brand depends on building relationships and a positive reputation when you're operating B2B, which is why you need more consistency in terms of delivery and presentation. Through brand recognition and creating a personality for your brand, a B2B company can generate plenty of leads.
As for B2C, you should focus all efforts on prioritizing the message. When you promise the customer something and deliver it with precision and speed, you create credibility on your end, which means loyalty on the customer's end.


3- Decision-making
Direct and open communication is important when it comes to B2B operations, as both parties should be able to decide whether or not they can work together to fulfill the goals of each. This means that understanding the decision-making process of your audience can give you a headstart and an advantage over competitors when it comes to doing business.
This could entail a complex process of understanding your audience's financial motives, like their budget constraints, investment plans, and so on, as well as emotional motives, like considering cutting benefits of workers or downsizing.
On the contrary, B2C operations require simplifying the process and focus on funnel conversions to get the highest ROI. This means raising the customer's awareness of how or why they need your product or service, and giving them an incentive to purchase your product and not your competitor's.
This means focusing on keywords, SEO, and putting a lot of effort into understanding the target customer's persona instead of the decision-making process of an entire business.


4- Identifying the Audience and Targeting
B2B companies usually have to narrow their audience to a certain niche in order to get a grip on the demographic. Consequently, being able to reel them in, retain them, and analyze the data to optimize the process.
By combining the data collected from SERP, understanding the user's intent when they were looking up certain keywords, and demographic data from Google Analytics, you can easily form an idea of who your target audience is.
On the other hand, B2C companies should focus on following the funnel as they work on markets of larger scales. This means starting from the top and creating awareness through ads, and then focusing on acquisition, activation, retention, and revenue, respectively.
Moreover, there should be more focus on CRO tactics (Conversion Rate Optimization) through quality landing pages that are easy to navigate as well as engaging content that entices customers to make the purchase.
Major B2B and B2C eCommerce Marketplace Industries
In the realm of B2B, Microsoft, MailChimp, and SalesForce are three of the most notable names. Microsoft offers technology solutions, such as Data platform, Microsoft Advertising, Microsoft Dynamics 365, and Microsoft Azure, for all businesses worldwide.
Admittedly, the SaaS industry is still not so ripe in Egypt, and so B2B models of operation aren't as popular as B2C ones, and that's why you won't find website-building services or similar ones as easily if you're not looking in the foreign market.
As for B2C models, you can't mention those without Amazon coming up, as it was a pioneer and is still one of the leading online marketplaces on the internet. It even has a subsidiary in the Egyptian markets that goes by the name Souq. Which is as popular in Egypt as Amazon is worldwide.
Some competitors that are also doing quite well in eCommerce are Jumia and Noon, the latter of which is getting more and more popular. And then there are ones that aren't as widespread but have established a name for themselves, like AliExpress and Olx.
Other successful B2C models would be Airbnb, which is a company that provides travelers with experiences, accommodation, and places, with more than six million houses, flats, and rooms in more than 81 thousand cities worldwide. You can apply this to the Egyptian market and gain benefit from the large gap between lodging suppliers and tenants looking to rent through a lodging app.
How to Develop a B2B or B2C eCommerce Marketplace?


A successful eCommerce platform would require either web development or mobile apps development for the business to establish itself, if not both!
You can start by developing an eCommerce website for your business, preferably using eCommerce cloud services to pave the way for big expansions. However, if you have budget constraints, you can start with a simple software development company to create an app to act as the eCommerce platform for your business and provide you with your eCommerce solutions.
You should keep in mind the following things:
The strategy through which you'll attract customers.
How the confirmation, payment, and delivery processes will be carried out.
How you'll collect feedback, analyze data, and improve on the initial strategy.
These concepts won't change whether your eCommerce platform is operating on a B2B level or B2C level. But what goes behind the scenes is so much more. Managing logistics, connecting payment services and allowing multiple options, managing security and access to different databases, and more. For this reason, opting for one of the eCommerce development companies in Egypt would be a good shortcut to getting all the preparations right.
Final Thoughts
Now that you've wrapped your head around the concept of online marketplaces, eCommerce platforms, eCommerce solutions, and have understood the importance of establishing yourself in this market, you should get your business up and running.
Check out the projects that Designy has already helped bring to life, decide on your business model, and get right to work to reserve a place in this ever-expanding market.


Contact Designfy Now and Talk with an Expert to Develop your Online Marketplace:
Mobile/Whatsapp (+20) 100-132-137-9.
Landline call at (+20) 337-737-10.
Send us an email at info@designfy.net, or through the contact page on our website.
Visit our head office at Villa 82 G, 1st Gate, Pyramids Gardens, Giza, Egypt.
Leave a Comment