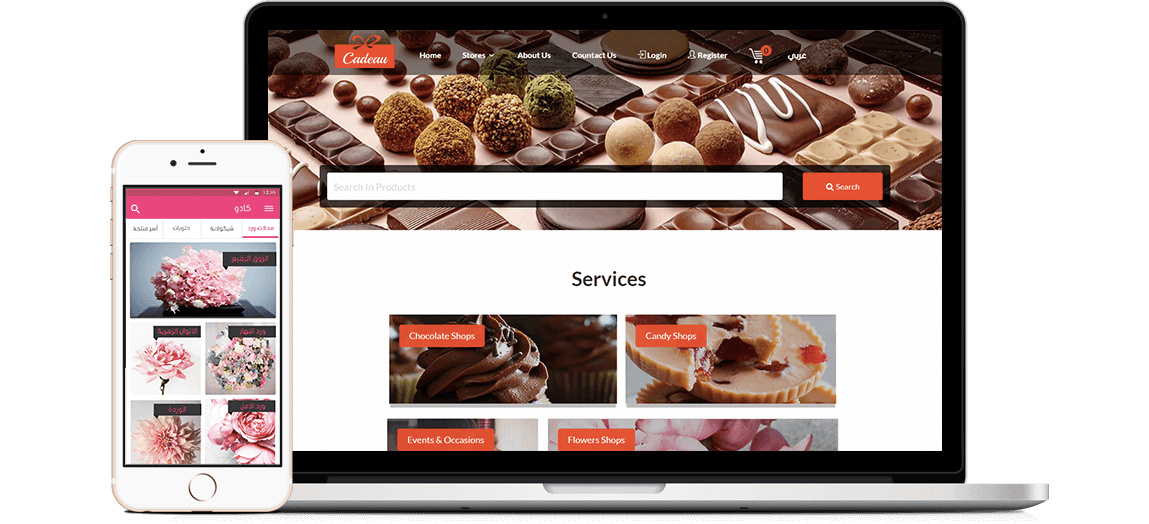 Website :

IOS App :

Android App :
Web Technology :

Mobile Technology :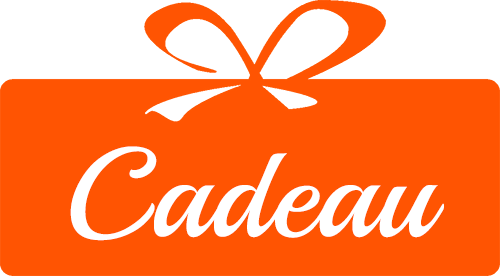 Cadeau
When Cadeau was just an idea in its embryonic phase, it was imagined as a single platform uniting buyers and sellers; that is a third-party platform. Our clients narrowed this broad idea to settle on the niche of occasion-related products and services. These festivity products and services include personalized chocolate, flowers, special gifts, event planner agencies and so on. They wanted to deliver a top-tier solution for those who are looking for these services by building wanted a one-stop shop for them to get the services they want.

Audience Analysis
Remember the early stage of our baby Cadeau? At that very stage, we were propelled into thinking about all the stakeholders we should take care of and provide the best experience possible: visitors, sellers, and managers. Each stakeholder has their own needs and expectations, so we needed to dive deep in each category to propose high-standard features and boost an amazing experience.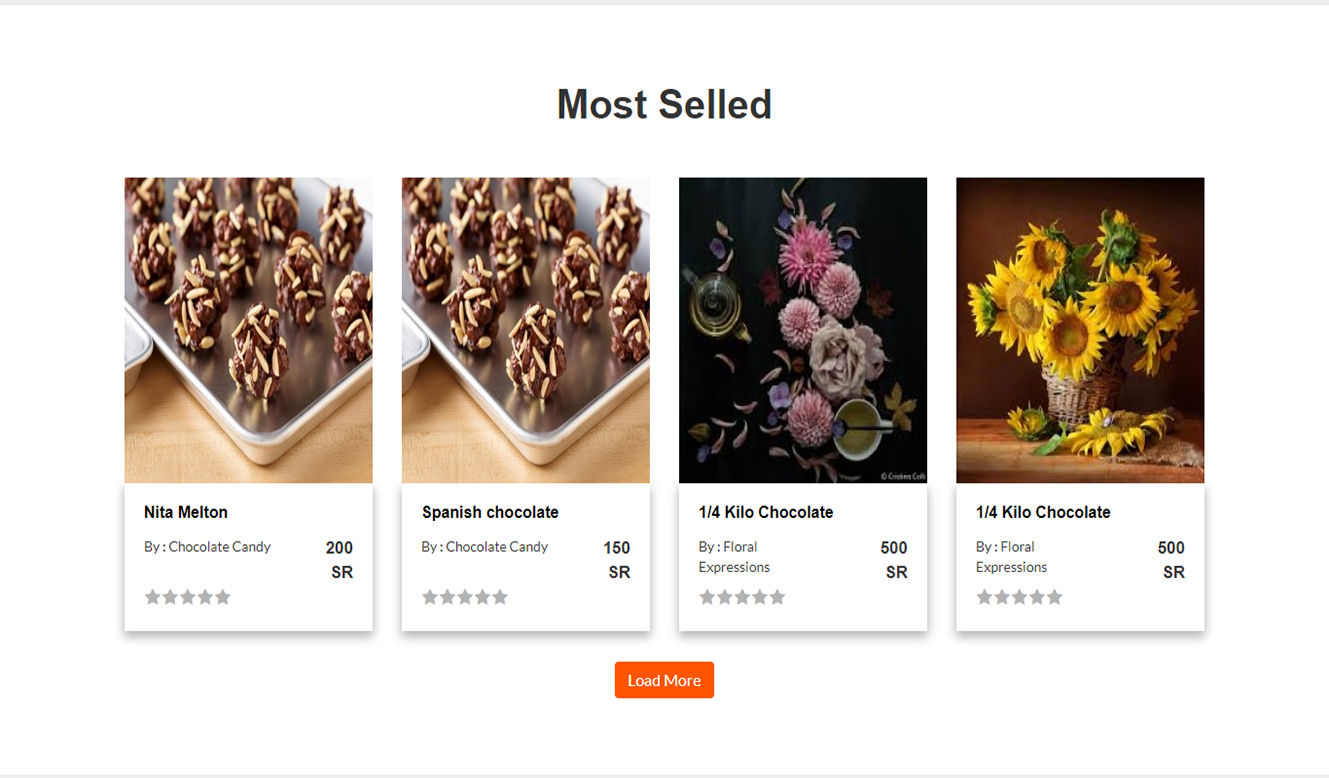 Storefront Features for Visitors
Visitors are our potential customers; our portal has to effectively communicate to users how effective and efficient it is and how it supports their needs and makes their lives easier. For us, a visitor should be converted into a customer who resorts to the website's products and services, comes back when the need presents itself and promotes the portal by sharing their satisfying experience on social media or word of mouth. Product Catalog: Along with a responsive home page populated with modern and elegant product selection, our portal and mobile applications ensure smooth and fluid browsing of product catalog regardless of how many products are added or modified. Customers can also create their wish list and shopping list in order to track their items or get notified when products are available. From product database, sellers would be able to add product descriptions and information like price, image, details, identification number and so on. This range of information makes sales copies more informative and sellable and also renders search for every product more relevant and accurate. Payment processing: Through the checkout system, customers can select products by a simple click on "add to cart" and then select the payment method they want to opt for. Several payment gateways are integrated and tested to optimize customer's satisfaction. Whether they want to pay by international credit cards MasterCard and Visa, PayPal or local credit card, their transactions are successfully and securely done. Sophisticated search tool: Visitors want to find what they are looking for in a glance. Thus, our search tool is too sophisticated to autocomplete, typeahead, predict recommendations. Among the limitless list of products and stores, we made sure only relevant and accurate are shown in search results.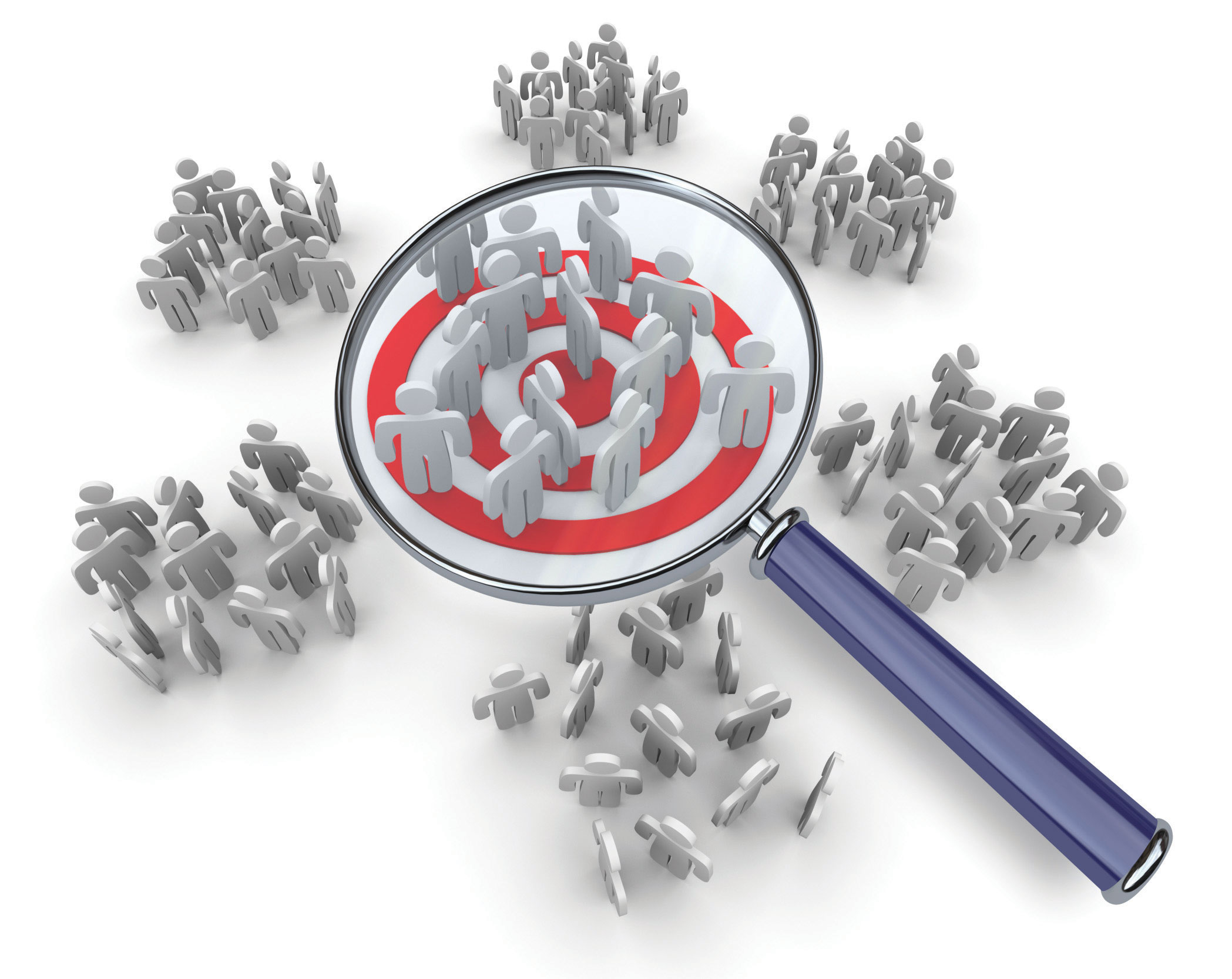 Backend Features for Vendors
Our third-party e-commerce portals like Cadeau come with must-have backend features for successful e-commerce websites that stand out from the crowd. Store management: Vendors will seamlessly add their products, update their content (size, color, details, etc) and decide which products are featured first and how products are ordered. Order management: Vendors will be always updated about the status of sales, percentage, bestsellers, product shortage, shipping order and more. Real-time notifications are sent when an order is made or delivered. Accounting System: In Cadeau, we made a lot of testing to be 100% sure of the efficiency of the integrated accounting system. We are, thus, sure that vendors will have all their reports backed up with pertinent information and number. They instantly access their store performance report, customer behavior, financial details and more.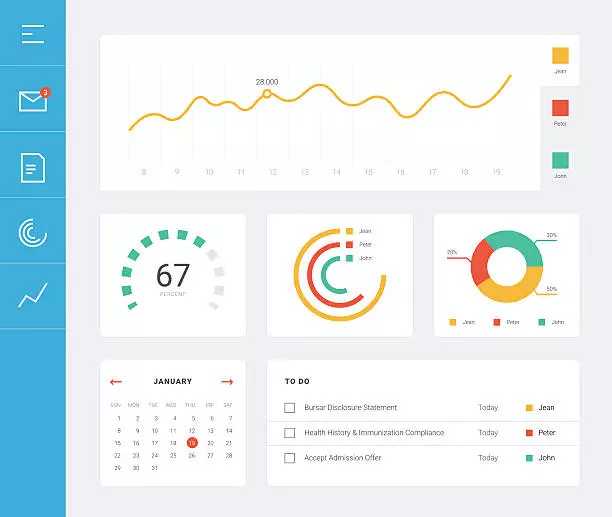 Multi-vendor Admin Panel
At the head of Cadeau lies the admin of this multi-vendor marketplace. The admin's responsibilities are broad and critical. He harnesses every part of the mcommerce: vendors, customers, payouts, reports, shipment, requests and more. The main feature of our multi vendor panel focuses on the option of adding other admins and set their tasks and privileges: what they are ought to do and not. Then other features needed to be included and integrated efficiently and smoothly. These features include: Product and Store catalogs: The admin can easily filter his management flow by filtering his management through product catalog so he can simply navigate through product categories or through different stores by managing each branch at one time. Customizable and scalable abilities: an ecommerce marketplace is likely to grow swiftly and attract more vendors and buyers constantly. The admin should be able to handle his business growth rate without worrying about the scalability of his website or mobile app. He also needed to customize his website according to his requirements and preferences. Automated Reports and Data: The admin of Cadeau needs to get sales reports, vendor and customer data, visitor analytics and more. These vital reports and data enable the admin to assess his business performance, alter certain strategies and mend any upcoming problem. Automated financial processing: From setting commissions to coupon management and shipping calculation, admin can manage all of these tasks without glitches. Product and Store review management: the admin can control and assess the products and services displayed on his marketplace through review management. Based on these reviews, the admin can filter how and where these stores and services are displayed.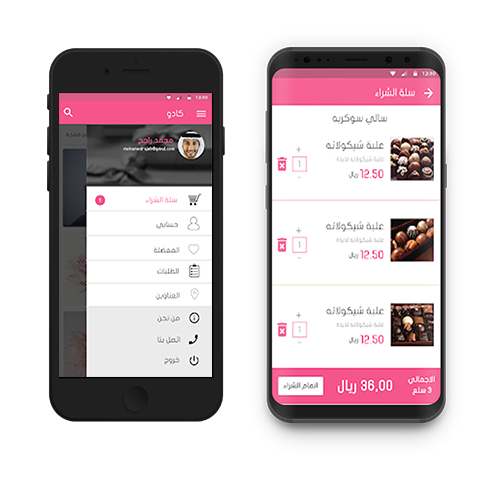 Native Android and iOs apps for buyers and sellers
Using Cadeau mobile app, customers would feel like they are closer to every service provider and store. They wouldn't feel like they are wandering on the streets looking for specific service and wasting time and energy while doing that. The convenience and easiness of Cadeau mobile app lie in its capability of being seamlessly browsed and filtered. They would search through the marketplace and choose stores and services without putting much effort or waiting for pages to upload. If they have orders to check or track, they will get real-time notifications on their Cadeau account and their personal email. Vendors can download Cadeau mobile apps available on Google Play Sotre and App Store to manage their stores on the move. We made sure there is no hassle nor difference using mobile applications to fulfill orders, check orders in different stages of their lifecycle, update their inventory and more. Vendors can easily upload their new products and services via their mobile app and add all the related details. All Cadeau apps support RTL (right-to-left) and LTR (left-to-right) languages. Arabic speakers cherish the same top-notch experience as English speakers. Creating an LTR based app is an easy task for developers. In contrast, an RTL based app that supports languages like Arabic and Hebrew is a little bit complicated as developers should keep in mind the holistic view and template and strive to make both aspects of the mobile app consistent and attuned. At Designfy, we pride ourselves for being able to provide the same smooth experience across mobile operating systems and languages. SEO Optimized & Google Friendly
Our projects are SEO optimized and Google friendly, we have high experienced developers that gives you the best performance making you hit the top positions in Google Search Engine. High Security Levels
We are caring in security, all our projects are 100% secure as our experienced developers working hard locking your important data & information against spammers and attackers.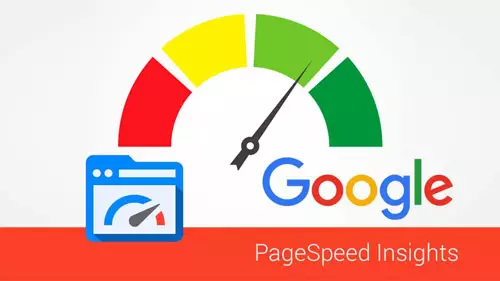 High Page Speed
As we know how this is very important for google these days to have a high speed page loading so we guarantee that our projects have a high loading speed in both Desktop and mobile.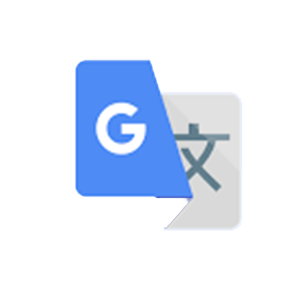 Multilingual with LTR/RTL
Multilingual Travel Website with LTR/RTL Directions
Features

Multivendor eCommerce Platfrom

Scalable and Customized Platform

Separate Seller and Buyer Dashboard

B2C Mobile application

Automated Task Processing

Unlimited Product/Merchants

Flexible Revenue Models

Bulk product uploading

Multi-Level Categories

Product Comparison

Offer Deals

Product Review Management

Shipping Info

Multistore Functionality

Multilingual/Multicurrency

Easy Checkout

Order Tracking

Easy Navigation