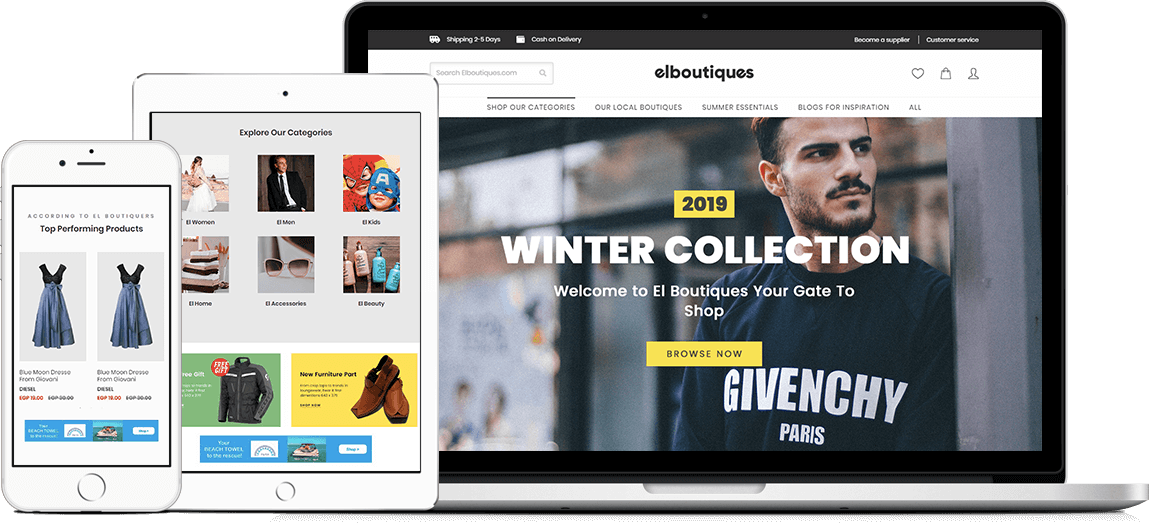 Multi vendor website
Unlike ecommerce websites, Elboutiques is conceived as a multi vendor website connecting multiple vendors and stores with prospects and clients. As a web development company that offers ecommerce and retail solutions, we ensured our client a comprehensive website packed with basic and advanced features. We made sure to pick up the web hosting service provider that can handle an unlimited number of stores and products. This resulted into a scalable multi vendor website that would surely expand its services and targeted audience without hassles.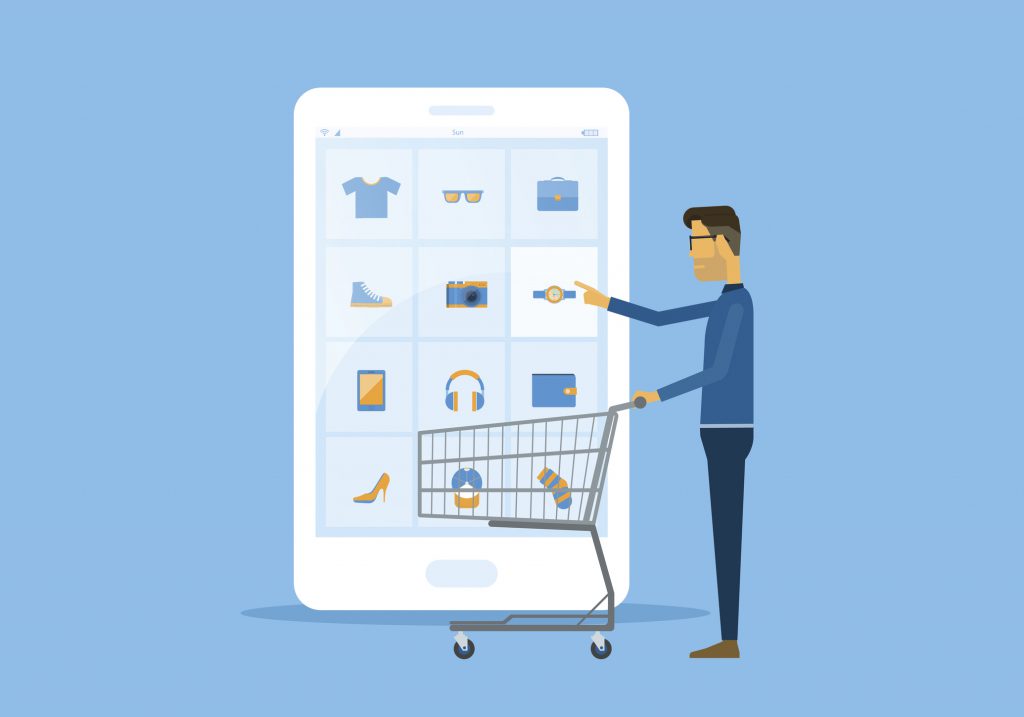 B2C Marketplace
As a b2c marketplace, Elboutiques assembles a variety of products ranging from fashion wear, beauty products to home decor, gifts and stationeries. To make b2c services reachable, we ensured smooth navigation through using the latest design and development technologies. Our user-centric approach guided our UX/UI design team to come up with an attractive ecommerce web design and a modern user interface. Then we conjured up a clear sitemap to enhance navigation and make this B2C marketplace equal to a physical mall.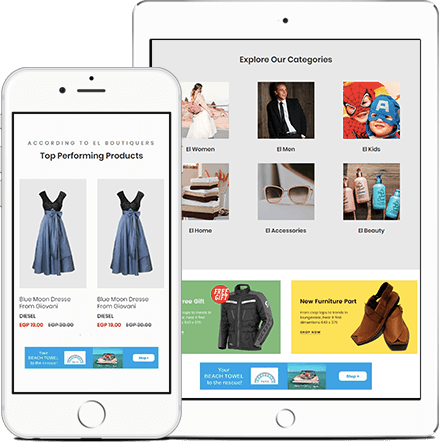 Mobile First e commerce Website
Almost half of ecommerce traffic comes from mobile devices. Thus, we made sure we created Elboutiques as a mobile first ecommerce website. Our ecommerce developers and designers put into consideration the differences between the look and performance of this "multi vendor marketplace" on desktop and mobile devices. Ranging from poor mobile network coverage to screen size and bandwidth, these differences should not be felt by the user. Our efforts resulted into a mobile first ecommerce website with a responsive design that runs smoothly across any hand-held mobile devices.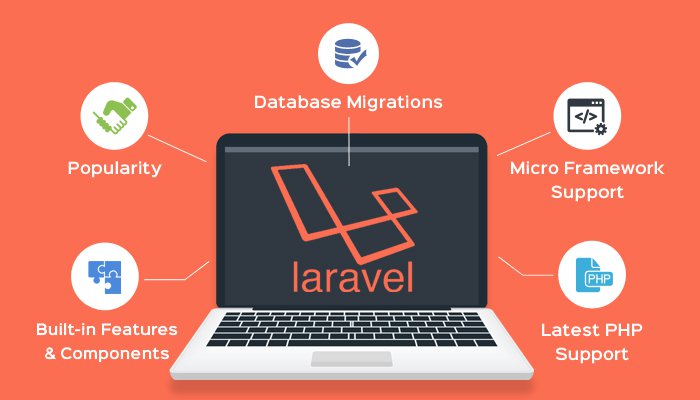 Laravel ecommerce CMS
We created a robust "laravel multivendor ecommerce" that comes with an easy-to-harness Laravel ecommerce CMS. Using laravel ecommerce cms the admin of Elboutiques can:
Manage laravel shopping cart: they can manage multiple vendors and stores as well as laravel shopping cart in a flexible manner.
Integrate omnichannel solutions: they can seamlessly manage an infinite number of stores and transactions while being always sync.
Set up a commission: a multivendor marketplace admins can set up fixed or flexible commissions depending on products or stores. He can also set up the rules of the commission he wants to get whether it is fixed or percentage wise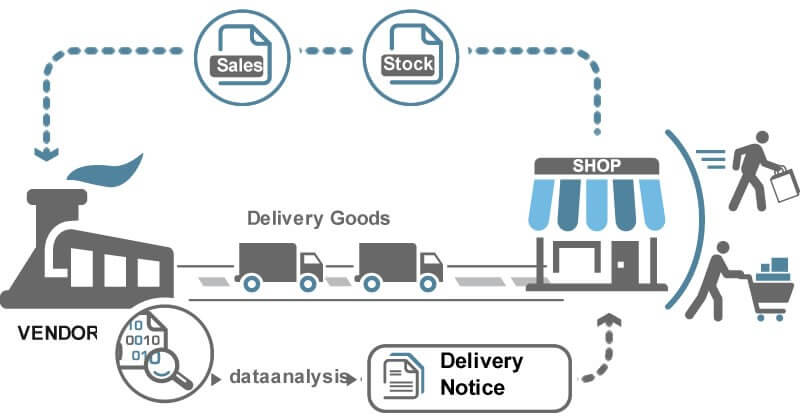 Vendor Management Model
An ecommerce website can be challenging to manage. But, Designfy team knows what it takes to cater an effective vendor management model. The managers of Elboutiques have to harness every area of vendor activities across all the stages of vendor life cycle. From the onset, we made sure to endow the admins of approve/disapprove requests of joining their multivendor marketplace. They can ask for identity verification to avoid fraud and enhance security and trust. Upon approval, admins are able to:
check on every activity and process performed by the vendor.
Delete or ban certain products or vendor profiles.
Overview reviews left by customers
Check delivery processes
Evaluate each store performance and the quality of its products.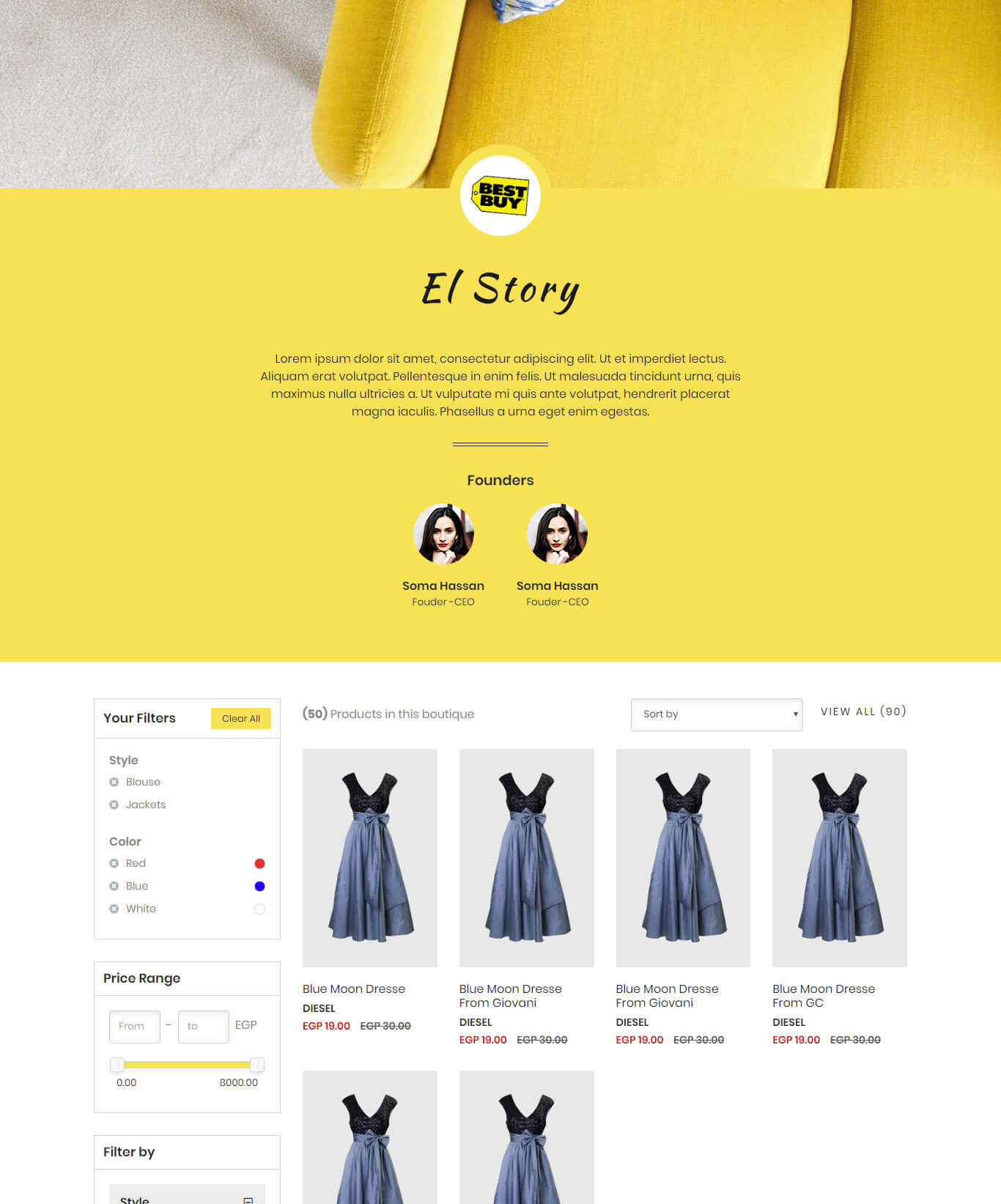 Separated Shop for Every Vendor
At Elboutiques, separated shops for every vendor are seamlessly set and created inside the "multivendor marketplace". Each shop contains its description, logo, address of its branches and stores, products. This is to say, this setting is used to configure shipping, shopping cart and checkout. Reports are created according to the data collected from every separated store. On the other hand, customers wouldn't encounter any problem in shopping from multiple stores. They will get a single checkout with shipping fees added to the subtotal of selected products.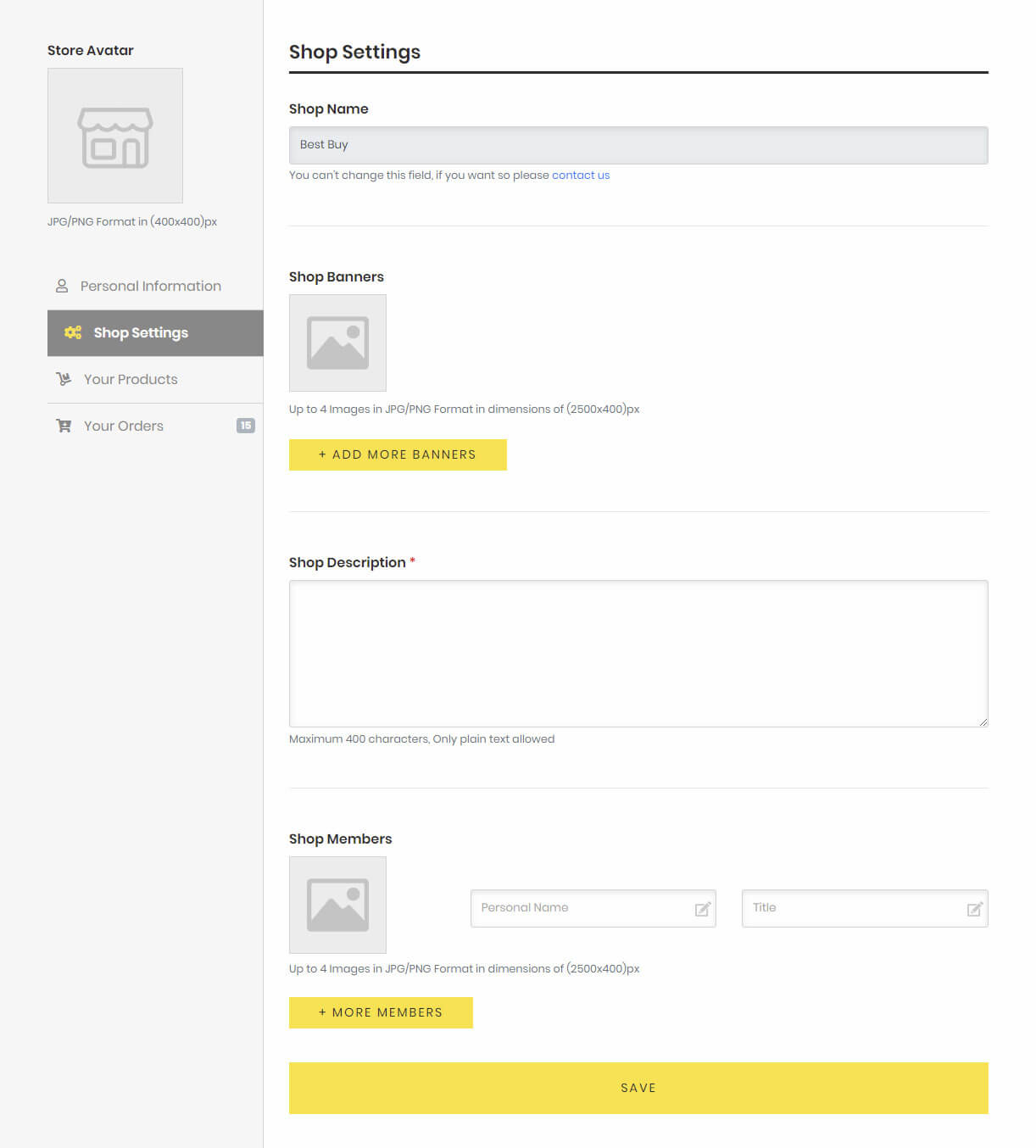 Front-end Supplier Dashboard
After creating their separated shop account, each vendor is provided with front-end supplier dashboard. Thus, suppliers can seamlessly manage their tasks and products. Vendor panels include only what the admin allows suppliers to have. Right away from their dashboards, each Vendor can:
Add products and organize them using filter tags.
Add more than one shipped from address.
Overview the store performance, store traffic and sales.
Evaluate the performance of each product including best-selling and not-selling products.
Schedule processes and choose shipping logistics.
Get thorough financial reports including revenue and commission details.
Choose multiple currencies and languages.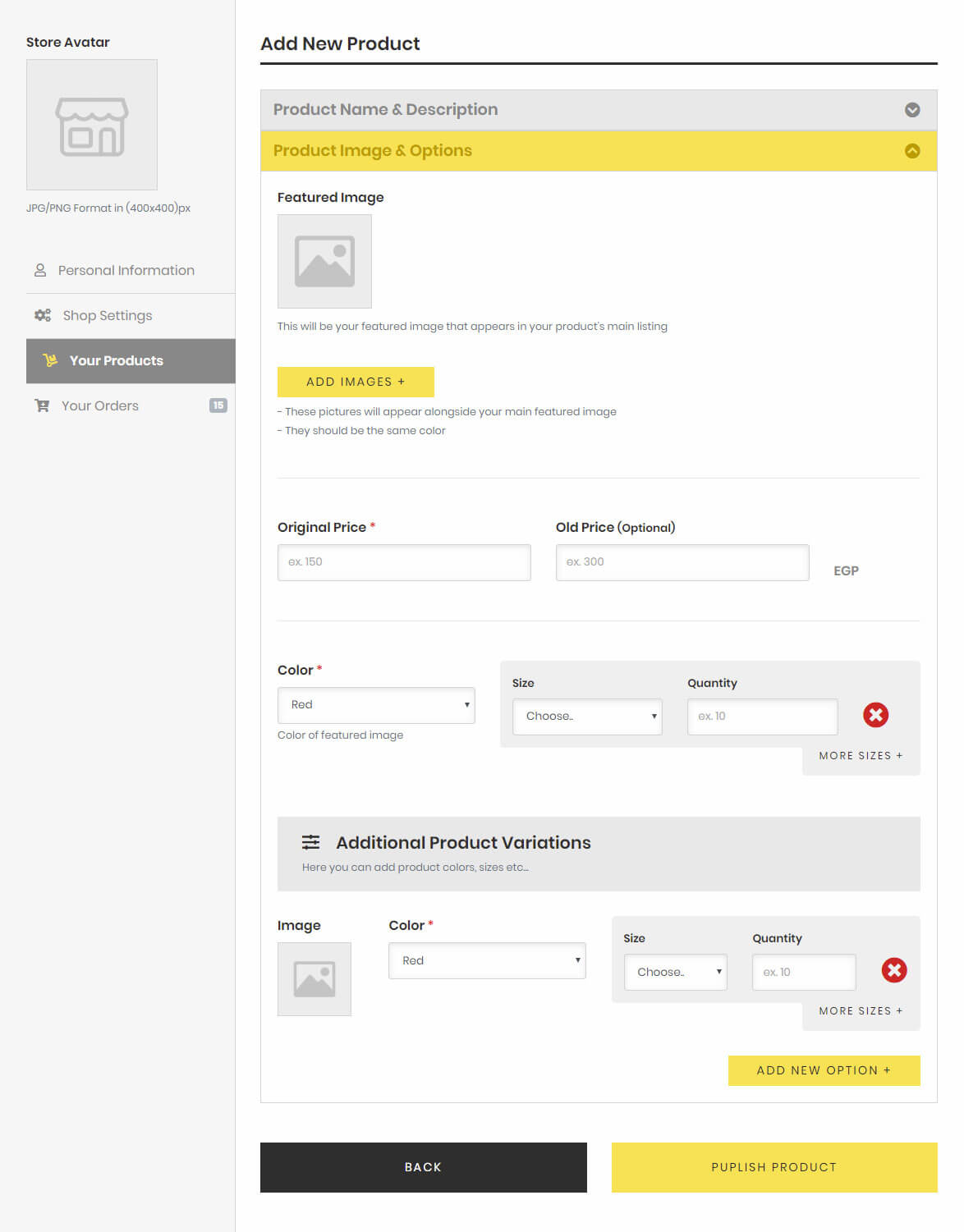 Supplier Products Control
In this multivendor website Elboutiques, the admin is endowed with supplier products control. Thus, he can define the type of products allowed on the marketplace as per his preference. He can restrict certain types of products or quality, ranges of prices or specific store locations.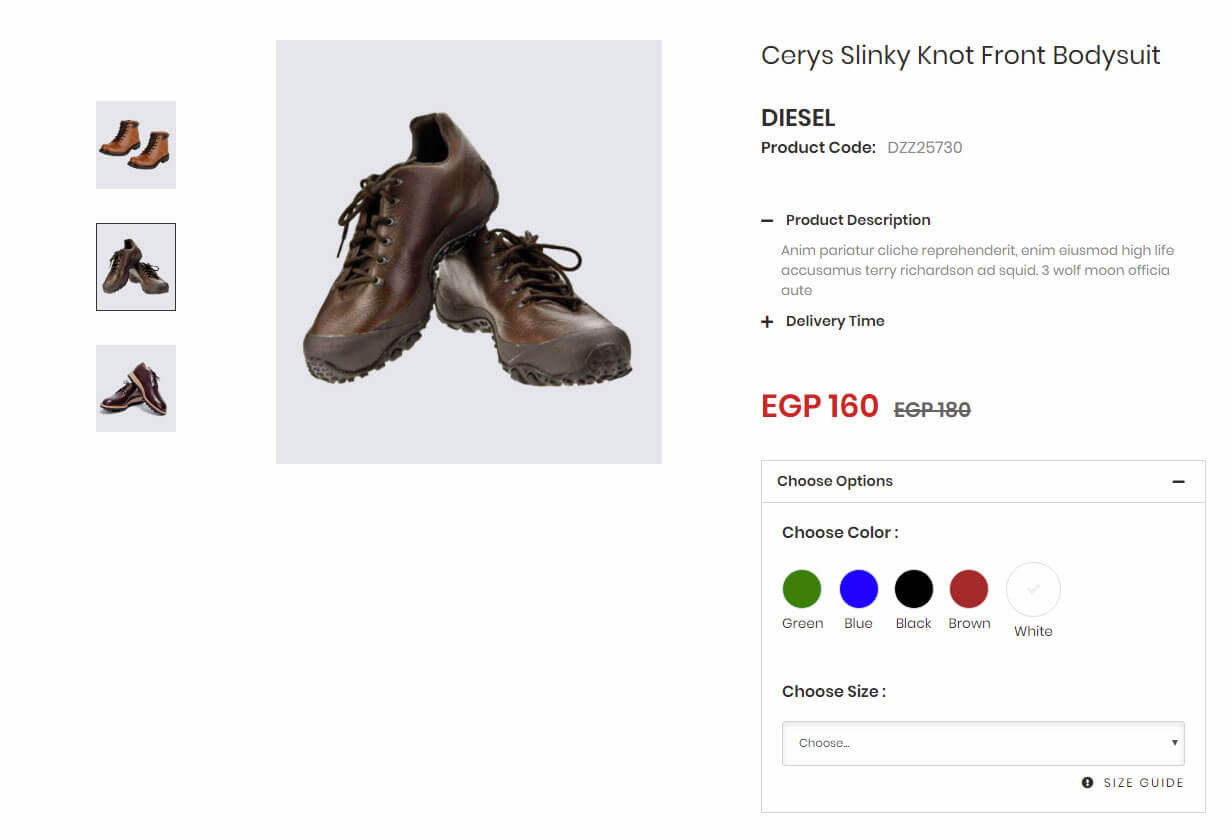 Multiple product options
On Elboutiques, vendors can add as many products as they want and can enter multiple product options. Vendors don't produce a one-off piece. They offer goods with variants to satisfy all their customers. Elboutique offers them a comprehensive ecommerce website where they can add all of their products and set their multiple product options like size, fit, color and so on.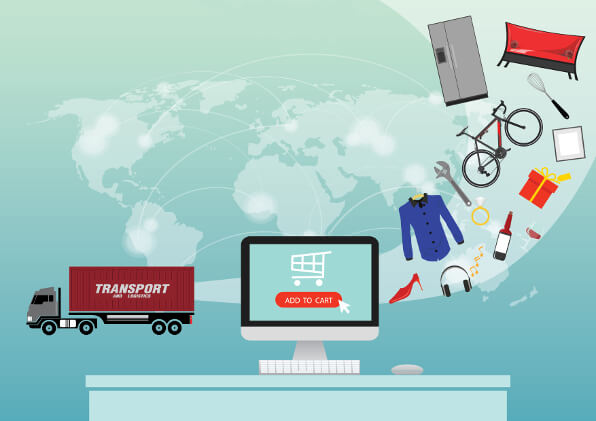 Ecommerce Logistics Solutions
Designfy developers provided Elboutiques with ecommerce logistics solutions. Whether ecommerce logistics services are chosen by vendors or Elboutiques managers, we made sure to integrate the right solutions to add more value to the supply chain. Vendors can seamlessly add their manual shipping methods and addresses. The shopping cart is connected to the selected transport system, allowing an accurate and automated data transformation and shipping cost calculation. Shipping cost is automatically calculated according to order weight, cost and number of items as well as the distance between the pick-up address and the customer's.
Designfy put a myriad of flexible ecommerce logistics solutions so that every volume of delivery is handled effectively.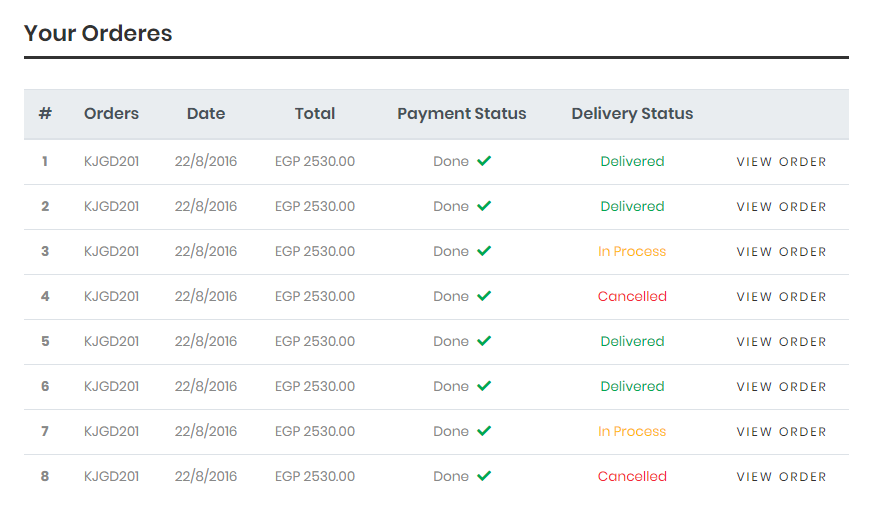 Client Orders tracking system
Designfy team solidified the automation process of Elboutiques through Client Orders tracking system. Once orders are made, clients can track the status of their order and the shipping process. They get real-time notifications about any updates via SMS, Email or on Elboutiques personal account.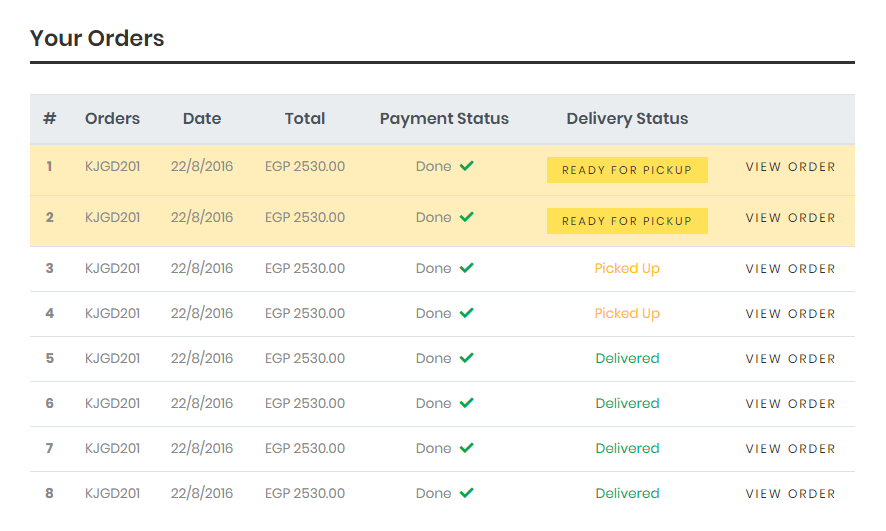 Supplier Order Tracking with Delivery Status
Within Elboutiques, vendors are able to track their sent orders and update their delivery status. Thanks to Supplier Order Tracking with Delivery Status, vendors get snapshots and updates about shipped order in real-time no matter which shipping logistics they opt for.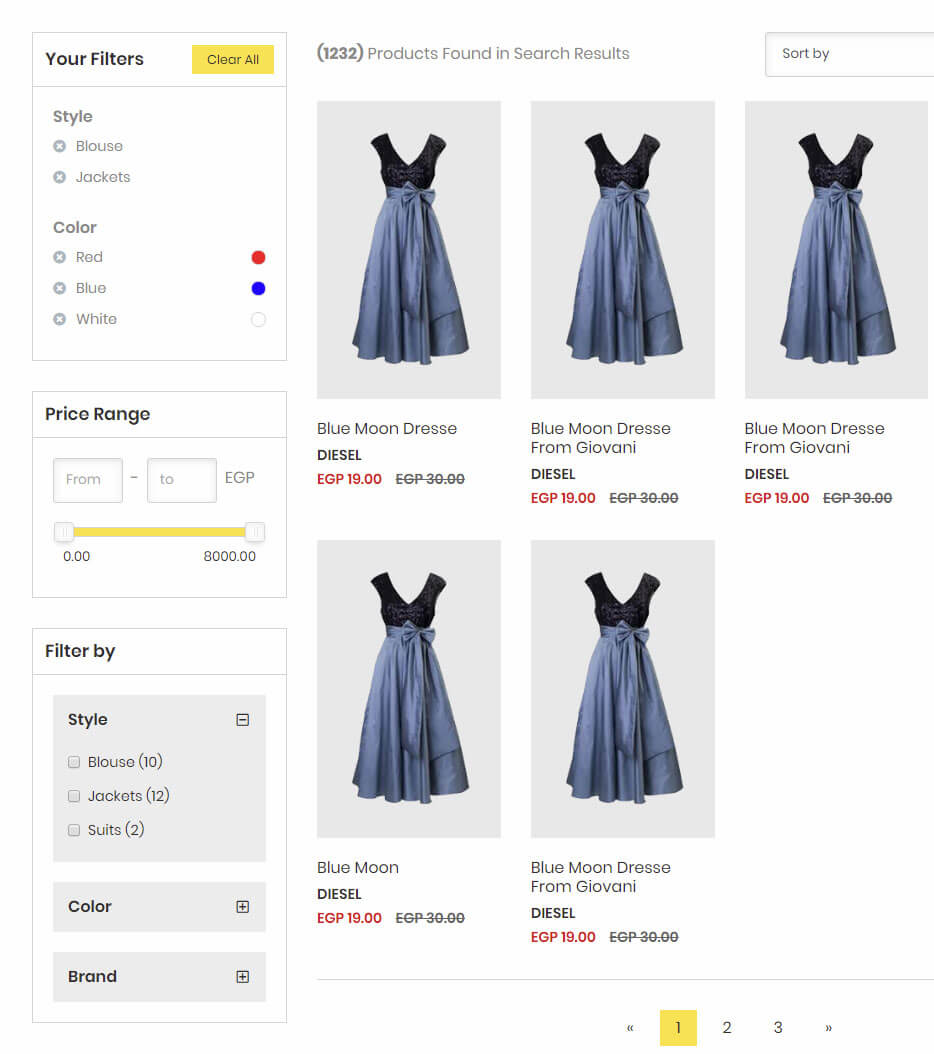 High Optional Filter Sidebar
For a "multivendor website" to function smoothly, a high optimal filter sidebar was integrated. Filtering products is an effective system to attract prospects and facilitate their search for specific types of products. According to a lot of options and criteria, products are collected and categorized in the sidebar. Vendors can use tag filters to order their products. Some of these filters are:
Color
Size
Price
Product category
Product feature
Product materials
This serves a great way to handle intuitive and smart search while organizing the large store inventories via multi tag filter sidebar.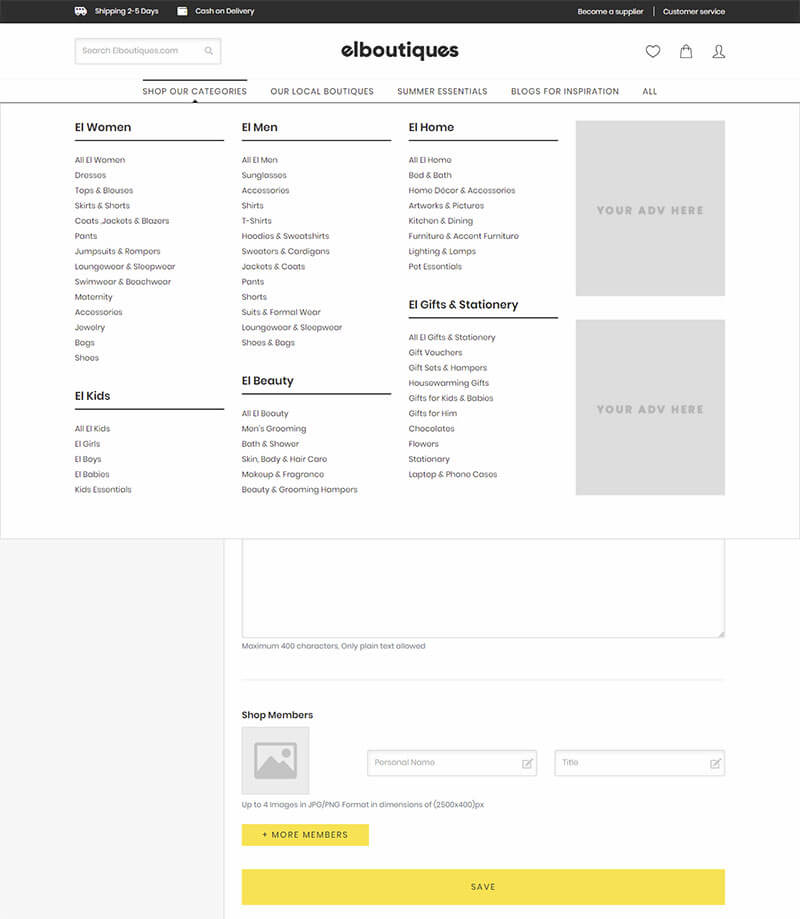 Megamenu Dropdown
As we developed deep expertise in creating multivendor websites, Designfy team knows the importance of megamenu dropdown. Unlike regular dropdowns, megamenu dropdowns foster an enhanced user experience and easy site navigation. A big multivendor marketplace like Elboutiques should have all the available products grouped into relevant categories. Users shouldn't take time to scroll the whole website and pains to find what they are looking for.
Features

Fully Customized Design

Featured Products

Separate Seller/Buyer Dashboard

Product Catalog System

Easy Product addition

Track Inventory

Product Review Management

Discount Coupon Management

Easy Checkout

Customer Order Management

User Management

Database Backup

Affiliate Module

Smart Recommendations

Blog Integration

Promotional Banners

Multiple Payment Options

Secure Payments

Sales Reports

User Signups

Visitor Statistics

Top Selling Products

Top Searched Products

Non-Performing Products & Categories

Conversion Statistics

Latest Order Report