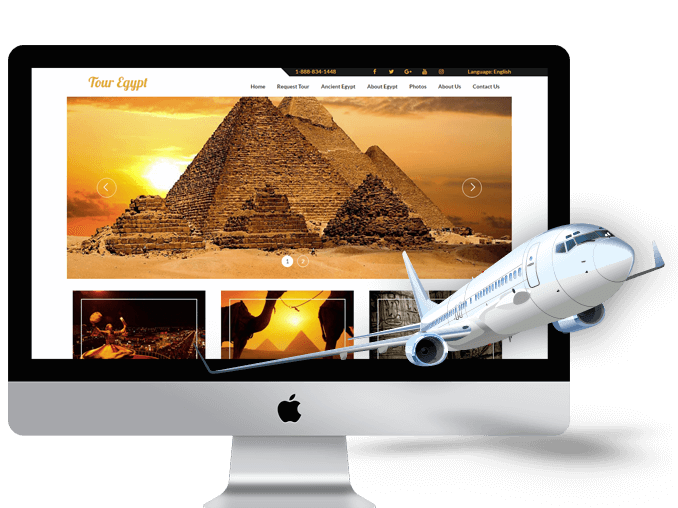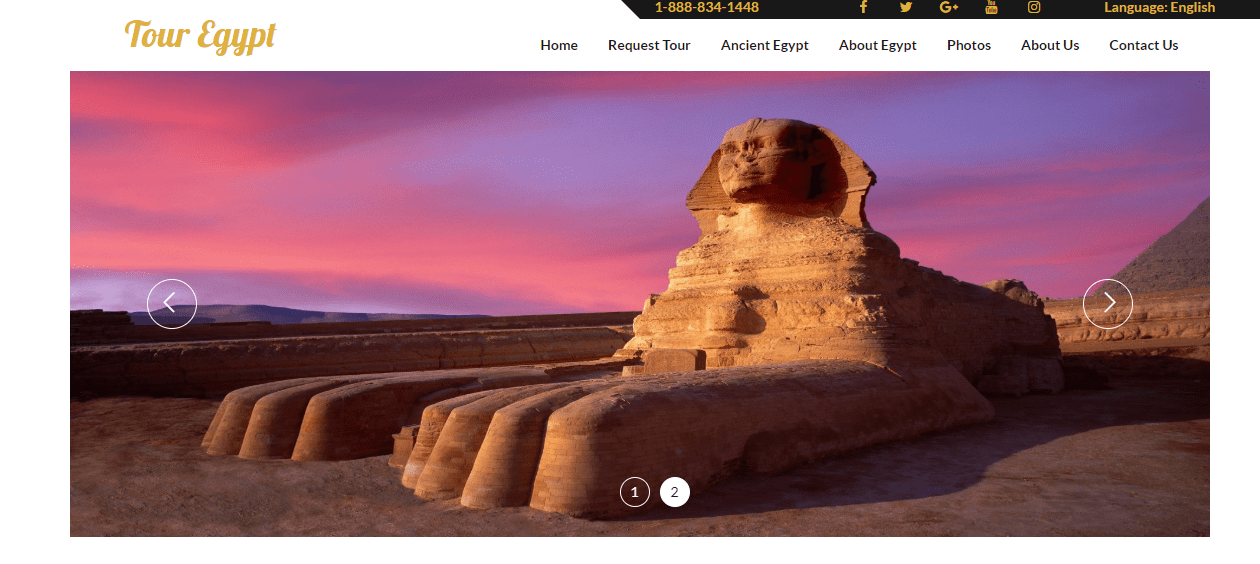 A Success Story of our Travel Portal Development Agency
At Designfy, we offer comprehensive travel agency solutions. Tour Egypt was one of our clients some years ago. As the website was launched in 1998, it had some design and performance issues. They resorted to us in order to redesign and update their travel website as well as strengthen their performance.
They wanted a modern website dedicated to tourism in Egypt. Their business requirements were clear: an ultimate level of security. Today, Tour Egypt is one of the world best travel websites.
Our Role: As a part of our web development services, Designfy took the wheel to redesign Tour Egypt and attune it to tourists' expectations. Our team made sure the sitemap is clear and easy to navigate. The huge amount of content on Tour Egypt needed an easy walkthrough for easy navigation.
Along with these tasks, we were the technical guardians of the website. Our engineers and developers worked on backend features, web hosting, and maintenance.
Comprehensive Tourism Portal
Tour Egypt is a unique travel website in terms of content and features. It is a comprehensive tourism portal containing travel tips, travel guidebooks, and blog articles. This unique tourism portal aims at delivering informative Egypt-related content:
The historic heritage of Egypt.
Best travel destinations, tours, and trips.
Best deals of Nile Cruises, Honeymoon Offers, Egypt Hotels, and Travel Deals
Latest tourism and general news.
List of cultural activities, special meals, and festivals. While developing and designing UX/UI, we considered two types of visitor personas: motivated cultural tourists or incidental cultural tourists. We made sure the tourism portal serves them the same way: tantalize them using a feature-packed tourism portal.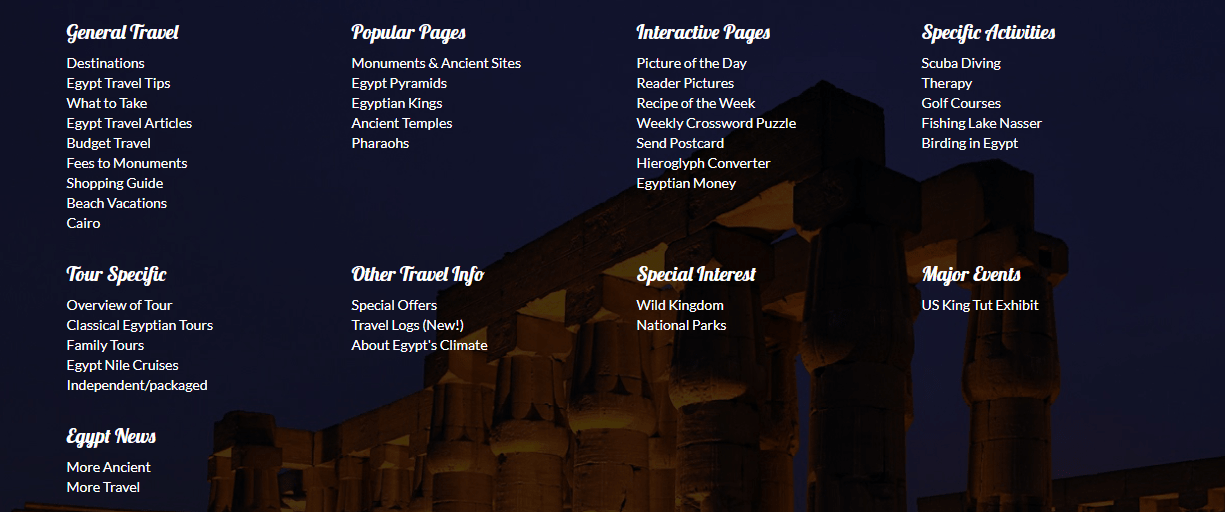 Admin Web Panel Features
To a travel portal developement, there is a myriad of backend features to consider. You can tell by now, we developed a website that would update its content regularly. And, it should handle massive traffic. We made sure the admin dashboard and panel are seamless to use and manage. Admins are able to execute any task with little to nothing tech expertise as every task has its own section. The admin would seamlessly:
Add travel tips and deals.
Update travel deals like Nile cruise deals, hotel deals, guidebooks, and trip deals.
Upload image carousels and banners of best destinations, upcoming festivals, and arranged trips. Throughout the years, our team partnered with Tour Egypt to update their web panel. We made sure there are no corrupted or damaged files.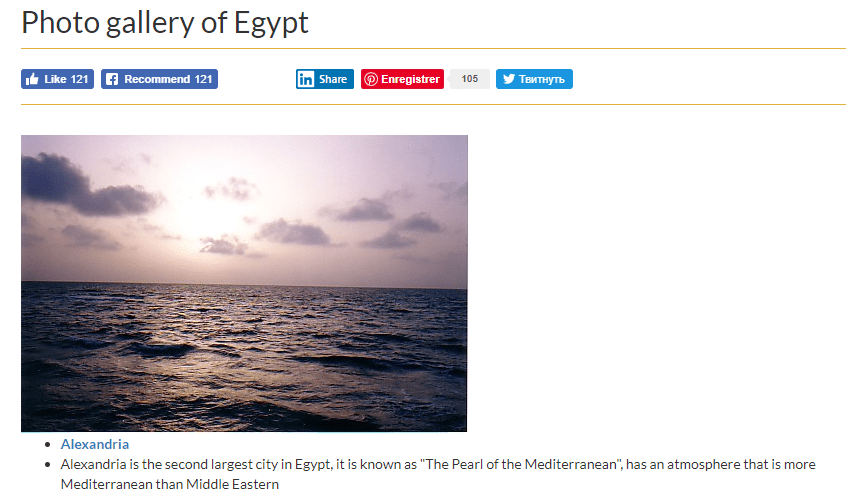 Maintenance and Web hosting for our Travel Portal
As a tourism website, Tour Egypt attracts thousands of visitors per day. Thus, we needed to choose a robust server that can handle the traffic peaks.
The major challenge was how to cater to a huge number of visitors. Visitors should be enabled to navigate the tourism portal concurrently without encountering a 404 page or an offline website. After thorough research, we opted for the right server hosting service that will do the job perfectly. Our maintenance tasks also revolved around checking the links both on-page or off-page. Then, we solved any broken links and enhance their SEO friendliness.

Enhanced User Experience
Our team members know exactly what it takes to develop and design an outstanding travel website. It seems hard to be noticed in such a crowded digital world. While developing Tour Egypt, we kept in mind the user experience. The first must-have feature for all tourism portals is design responsiveness.
Responsive design tantalizes users and propels them to book a suitable offer. No matter which device users are using, they enjoy easy navigation through Tour Egypt. Tour Egypt targets tourists from all over the world, so it has to attract them and give them a hassle-free experience. Potential customers will effortlessly change the website into the language they speak (English, Spanish, Deutsch, etc). Tourists would understand the content of the travel blog and its travel deals. They would not encounter language barriers or currency problems.
Features

Responsive Design

Dynamic Travel Website

A robust Web Hosting service

Customized Dashboard

Expandable Page Numbers

Travel Website CMS

SEO Optimized

Mobile-friendly Tourism Portal

Website Analytics and Statistics

Multilingual Tourism Portal

Interactive Pages

Gallery

Specific Activities Section

Tour Specific Section

Popular Pages Section

Lists Section