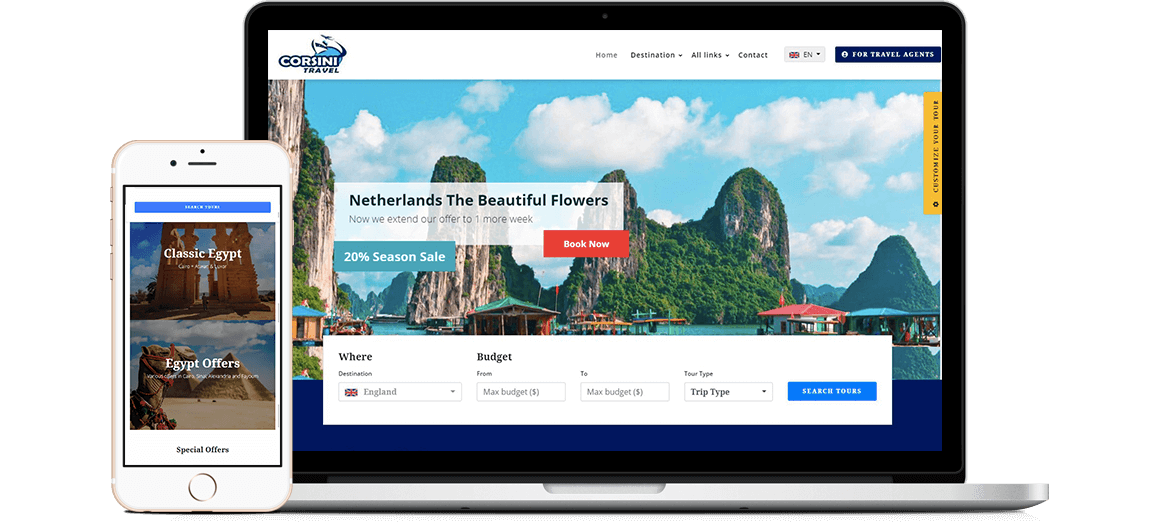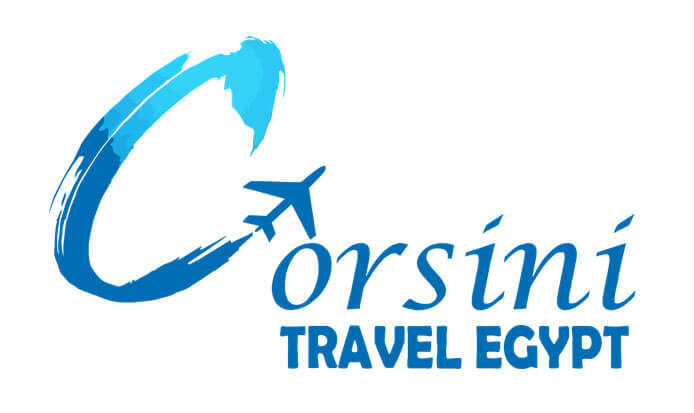 The Story Behind The Website :
Corsini is specifically designed Online Hotel and Tour Booking Provider targeting Egyptians and foreigners who want to enjoy their time in Egyptian regions and destinations. Corsini offers the best deals and offers of hotels, Nile Cruise and Tours booking. And It aims to optimize the experience of tourists by providing them a range of best-value offers and the opportunity to choose the best deals and destinations in Egypt.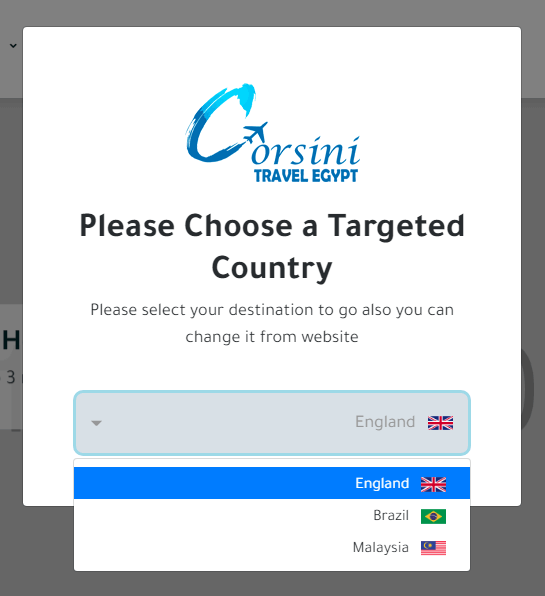 Country / Language Selection
Corsini main focus is on Egypt region and they plan to extend their reach to many countries to consolidate their inbound strategy. This propelled us to think about all the underlying features we should integrate for Corsini to grow and thrive without any hassles. For instance, we integrated a country drop-down menu for visitors to select their country of departure and then language and currency modules will be automated to the selected country. For Corsini administration, we offered the possibility of enabling and disabling the languages and currencies they select if need be. We also worked hard to make it a globally accepted travel platform by payment integration gateway for customers to choose the easiest and most suitable payment method wherever they live.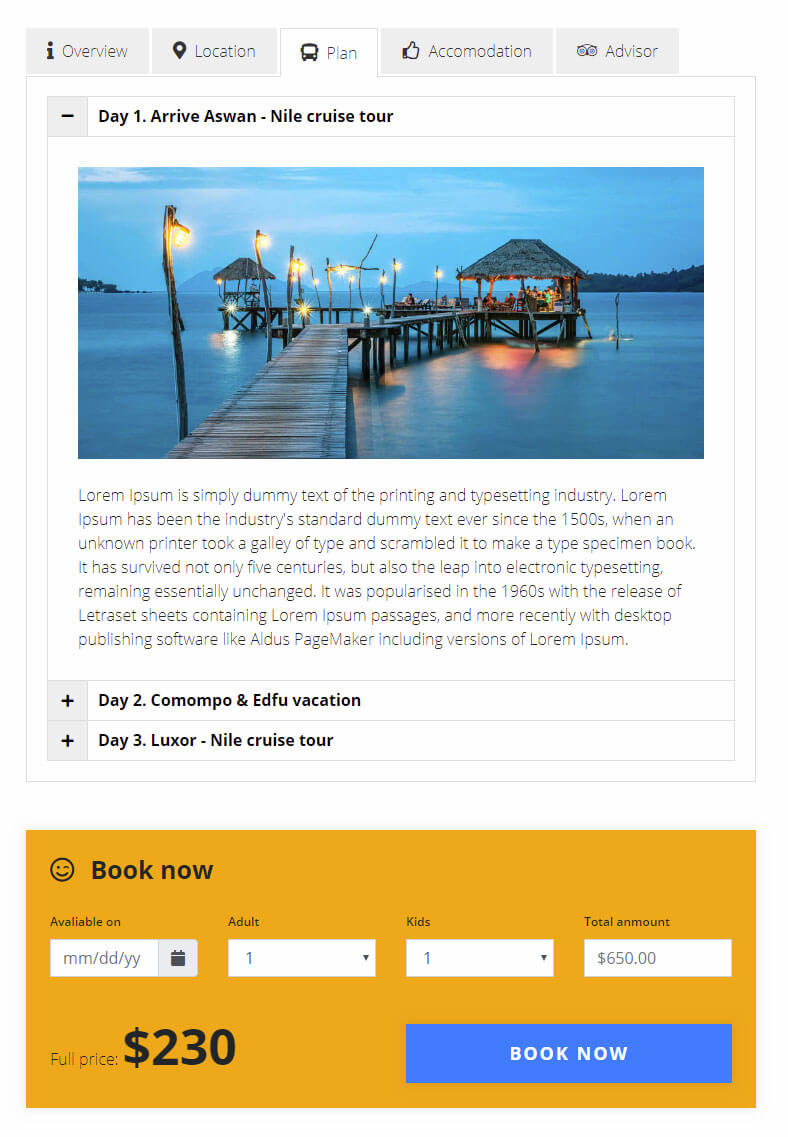 Advanced Tour Options
Advanced Tour Options :
Tour overview
Tour Map Location
Tour Plans
Accomodations
Trip Advisor Recommendation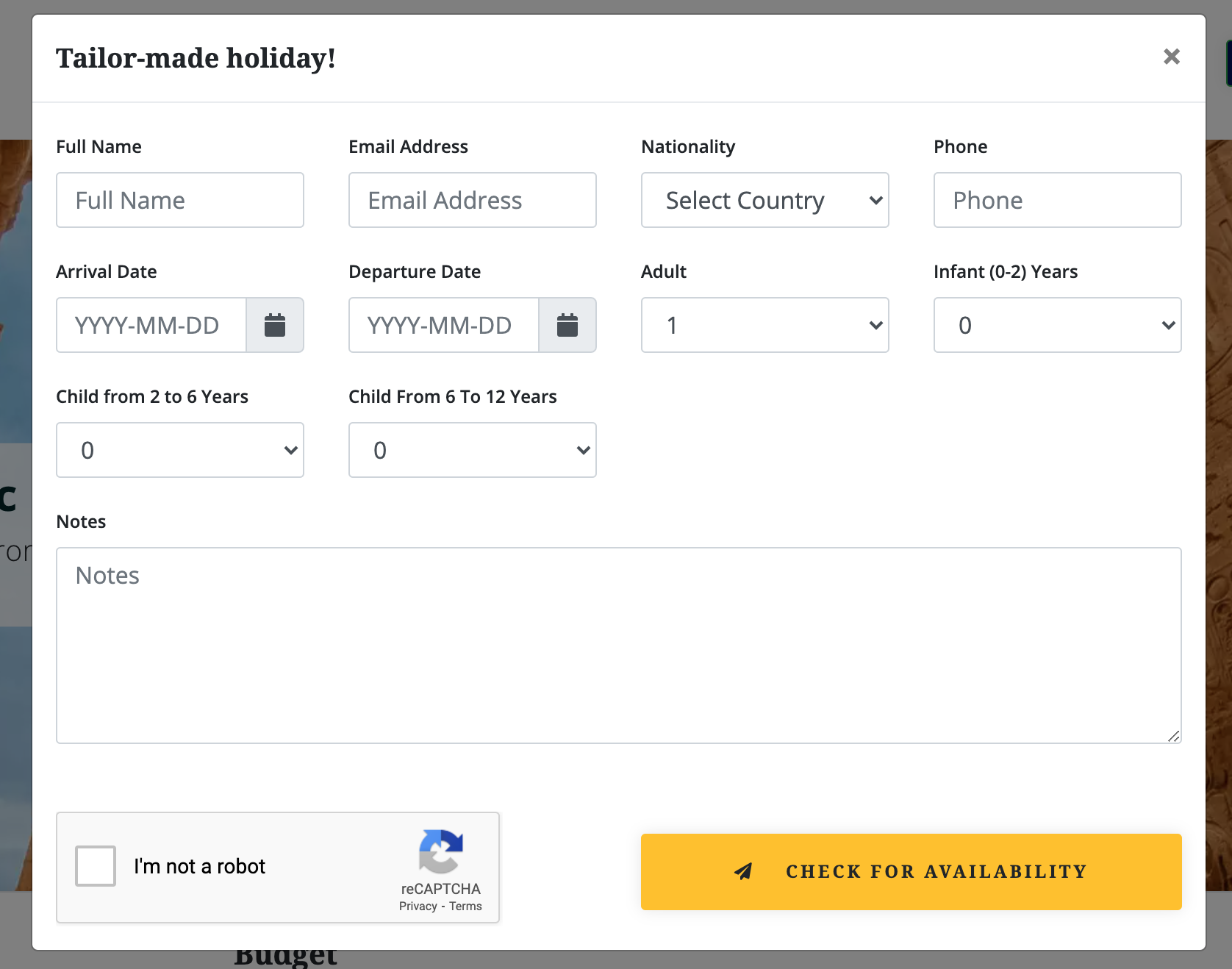 Advanced Form Destination
Visitors of travel websites tend to be very demanding as the industry is jam-packed with websites offering similar services. The more comprehensive a travel website is, the more it attracts users and converts them into customers. Our developers at Designfy, crafted Corsini with a plethora of efficient features that offer the best possible experience for visitors. To enhance efficiency and convenience our developers implemented: an advanced search engine for quick and relevant search results a clear display of offers by using hot and seasonal offers, best offers, best hotels and comparison modules A tailor-made holiday option for busy visitors to choose their customized journey and check the availability of their choice. comprehensive offer descriptions to avoid any misunderstanding and propel visitors into action Custom social media buttons for visitors to help people reach Corsini's customer service.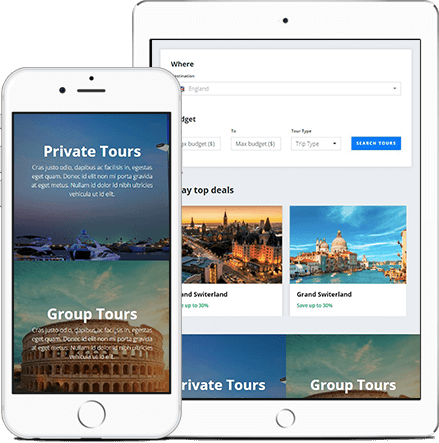 Mobile First Layout, 100% Great in all Screens
Mobile First Layout, 100% Grate in all Screens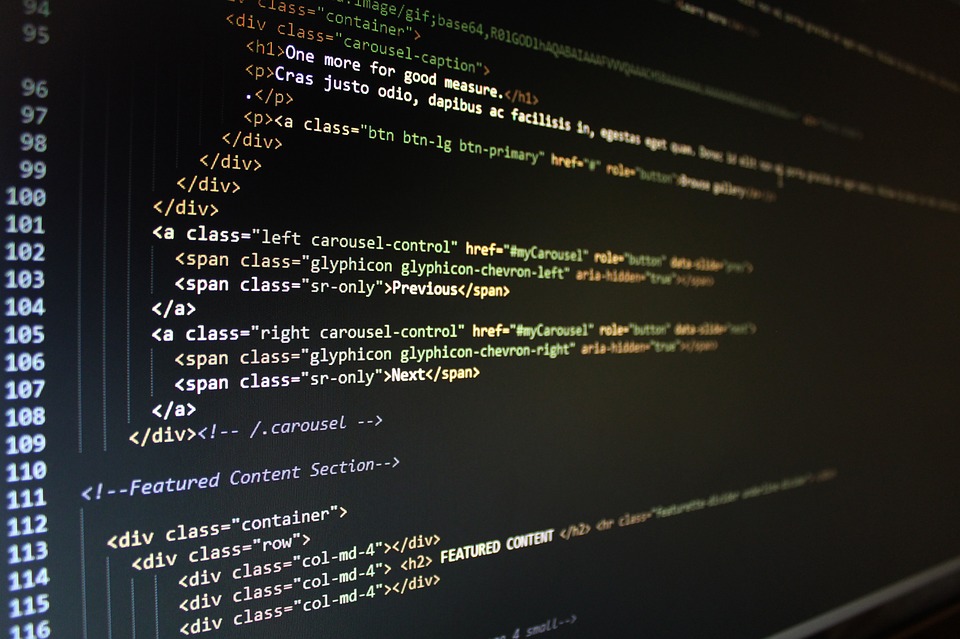 Clean, Organized & SEO Optimized Code
Clean, Organized & SEO Optimized Code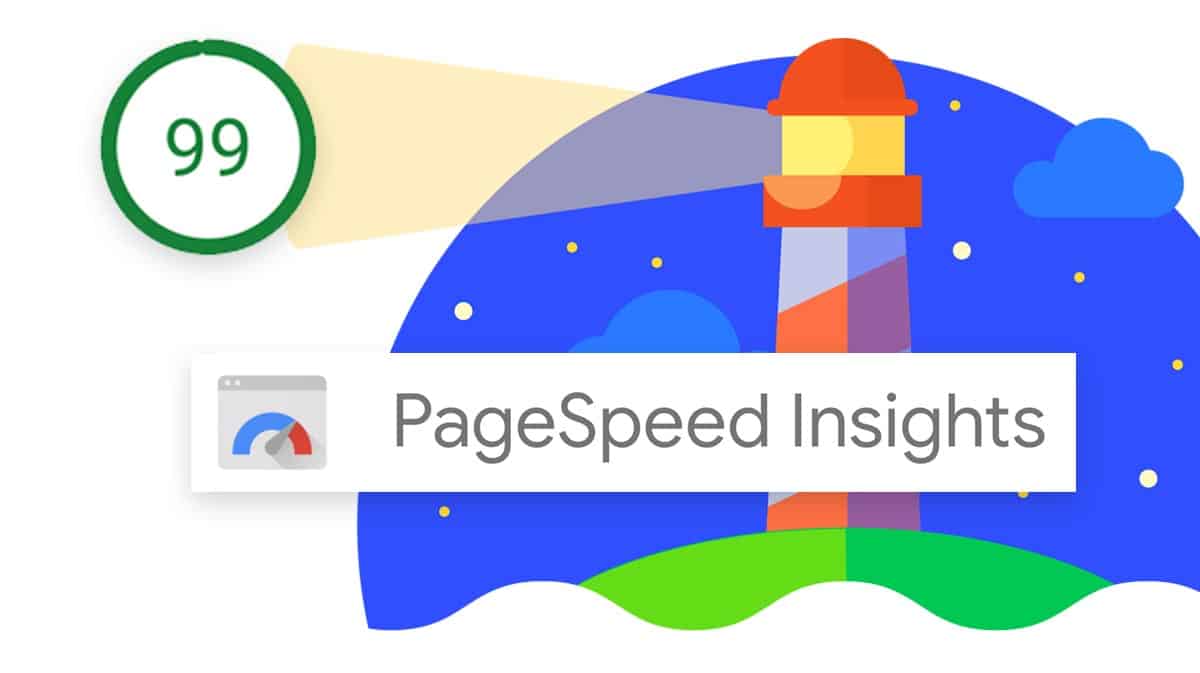 Fast Loading & Google Friendly Website
SEO Optimized & Google Friendly Website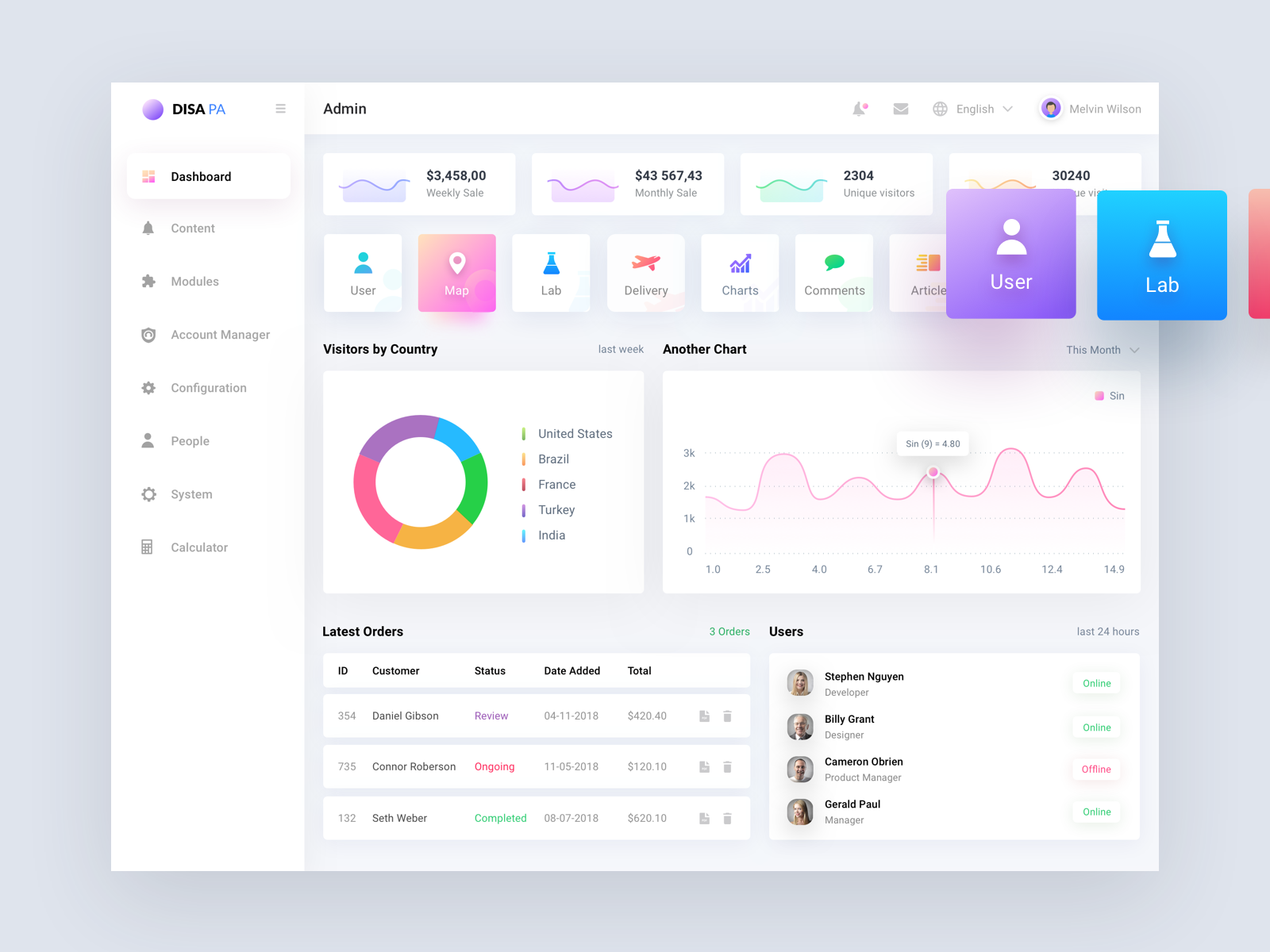 Secure Advanced Admin Panel
Business owners are usually looking for an easy-to-manage dashboard in order to avoid any potential tech hardship and focus on their business and brand. Our team at Designfy always strives to come up with a comprehensive dashboard that doesn't require any tech expertise or prior experience. The admin panel of Corsini is conceived to make things as easy as possible. Therefore, our bespoke dashboard is permeated with a variety of major functionalities. These functionalities include sitemaps module, user listings, booking history, dynamic content pages, request management, B2B registration, automated reports and statistics and more.
Features
Unlimited lists of tours, hotels, and deals.